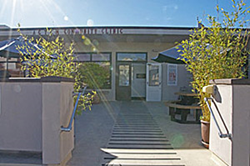 San Francisco, CA (PRWEB) May 28, 2014
American College of Traditional Chinese Medicine (ACTCM) recently announced a new partnership with Hearst Media Services. This partnership will allow the college to increase its web presence and spread awareness of traditional Chinese medicine.
Hearst Media, along with the San Francisco Chronicle, will be implementing an aggressive marketing campaign to help ACTCM spread the word about their educational programs. As part of their marketing strategy, Hearst will focus on developing greater visibility online, allowing the college to reach a wider audience. Frequent press releases will also be developed through the largest online PR channel in the world.
ACTCM has been at the forefront of traditional Chinese medicine since its inception in 1980. Since then, they have become the leading medical training program in the field of Chinese medicine. The college offers two degree programs: the Master of Science in Traditional Chinese Medicine and the Doctorate of Acupuncture and Oriental Medicine. Students gain an invaluable education at ACTCM, developing important skills and learning the art of healing.
Traditional Chinese Medicine is an ancient healing art that originated more than 3,000 years ago. Comprising a variety of therapeutic practices, including acupuncture, nutrition and more, traditional Chinese medicine has a long history of proven medical treatment.
Through their partnership and extensive reach into the local market, Hearst and ACTCM seek to create more awareness surrounding the environmental impacts of traditional medicine versus Western medicine. To learn more about ACTCM and their new partnership with Hearst Media Services and the San Francisco Chronicle, visit http://www.actcm.edu/.
About the college:
Founded in 1980, ACTCM is one of the oldest Traditional Chinese Medicine colleges in the country and was the first in the nation to be approved to offer the Master's of Science degree in Traditional Chinese Medicine. ACTCM has been honored for its curriculum, faculty and acupuncture clinic, and voted "Best of the Bay" by both the San Francisco Weekly and the San Francisco Bay Guardian. The college has also been honored for its role in animal conservation and partnerships with the World Wildlife Fund (WWF) and the Save the Tiger Fund.