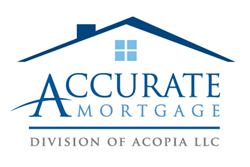 From the very beginning, we set out to be a different kind of mortgage company.
Nashville, TN (PRWEB) June 12, 2014
Accurate Mortgage is proud to announce that they have closed over 6,500 mortgage loans in the Middle Tennessee area in the past nine years. Dedicated customer service, in-house decision-making, and always keeping a servant mentality, have all proven to be successful business strategies for local owners, Mike Hoover and Joe Stanford.
"From the very beginning, we set out to be a different kind of mortgage company," says Mike Hoover. "It is very important to Joe and me that we are in the office, hands-on, every day, helping facilitate loans for our clients. Over the years, we have seen a lot of unique circumstances, and we pride ourselves on being responsive to those individual situations and getting our clients the best loan possible."
There are a wide variety of loan options available and Accurate Mortgage services all of them. Loan officers at Accurate Mortgage are some of the best trained professionals in the market and are skilled at deciphering if a conventional loan, an FHA loan, or a Fannie Mae loan is best for your situation. From the start of your application to handing over the keys to your home, you will deal with only one person at Accurate Mortgage. This loan professional will walk you through the many steps of closing a loan, making sure you have a full understanding of your options and ensuring you have the ability to make good loan choices.
With decision making ability in-house, Accurate Mortgage guarantees to close your loan in just 21 days. Call them today and get started on owning the home or your dreams, or take advantage of 6 month low rates to improve your financial situation with a refinance loan.
Locally owned and operated, Accurate Mortgage has served the Nashville area's mortgage needs for nearly 10 years. Mike, Joe and their team of experts provide top notch mortgage services with a real focus on quality customer service.