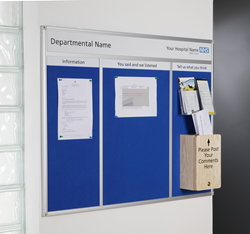 Increases customer response rates and frees up receptionists time.
(PRWEB UK) 2 June 2014
Concerned about what your customers think? Asked this question, most managers state an unquestioning yes; but, "What are you doing to increase your customer feedback?" the questioner says to the manager. At this point the answer will vary, but one thing stands true; unless the resources have been put into place, a member of staff is usually involved in collecting the information (usually the receptionist) off the customer, interrupting their normal flow of work or delaying how quickly they can see the next customer.
Teacherboards have been producing their range of Feedback Noticeboards for over two decades and despite the rise of computers, they have never been more popular with Hospitals and GP Surgeries. Teacherboards are happy to announce that their Feedback Boards are now available directly to the end user in a range of sizes for a new lower price.
Question papers pinned to the noticeboard with feedback sheets and pens nearby can be confidentially placed into the feedback box without any member of staff being involved.
Eventually, when the customers are used to the Feedback Noticeboard being in place, other feedback will start flowing in regarding 'issues' (as the customer sees them) which may not have been reported otherwise due to the customers potential fear of conflict with members of staff.
Feedback Noticeboards are an essential tool in any managers' arsenal and Teacherboards have 60 variants available through their website and many more available in bespoke sizes made in Skipon, England.