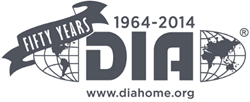 "Determining relative effectiveness is a key step in the drug development process. Finding ways to incorporate real-world data will expedite the development of treatments that can benefit patients."
Washington (PRWEB) May 29, 2014
GETREAL, a European Union Innovative Medicines Initiative, will host the forum "How Can Studies That Inform Relative Effectiveness Best Be Incorporated Into Global Drug Development Plans?" on June 19 at 10:45 a.m. as part of the DIA 2014 50th Annual Meeting at the San Diego Convention Center.
The pharmaceutical companies, academics, regulators, health technology assessment (HTA) agencies and patient groups that comprise GETREAL investigate how to use real-world data in drug development. Information drawn from real-life settings helps HTA agencies determine a drug's relative effectiveness, or evidence that the drug does more good than harm. Without real-world data to inform assessments of relative effectiveness, drug development can be delayed.
"Determining relative effectiveness is a key step in the drug development process," said Barbara L. Kunz, DIA global chief executive. "Finding ways to incorporate real-world data will expedite the development of treatments that can benefit patients."
The session's panelists are Chris Chinn, vice president and head of health investment evidence, European access to medicines at GlaxoSmithKline in the United Kingdom; and Mark Trusheim, executive in residence and visiting scientist at the Massachusetts Institute of Technology and president of Co-Bio Consulting, LLC.
ABOUT DIA: DIA is the global connector in the life sciences product development process. Our association of more than 18,000 members builds productive relationships by bringing together regulators, innovators and influencers to exchange knowledge and collaborate in a neutral setting DIA's network creates unparalleled opportunities for the exchange of knowledge and has the interdisciplinary experience to prepare for future developments. DIA is an independent, nonprofit organization with its global center in Washington, D.C., USA, and regional offices covering North and South America (Horsham, Pa., USA); Europe, North Africa and the Middle East (Basel, Switzerland); and Japan (Tokyo), India (Mumbai) and China (Beijing). For more information, visit http://www.diahome.org.
ABOUT DIA's 2014 50th ANNUAL MEETING: Celebrate the Past – Invent the Future is the largest multidisciplinary event that brings together a community of life sciences professionals at all levels and across all disciplines involved in the discovery, development and life cycle management of medical products. The meeting aims to foster innovation that will lead to the development of safe and effective medical products and therapies for patients. For more information, visit http://www.diahome.org/dia2014.