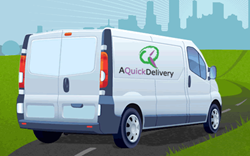 Atlanta, GA (PRWEB) May 29, 2014
AQuickDelivery, a recognized leader in same-day delivery, messenger and transportation services, announces automated rating with zip codes. The Atlanta courier makes the announcement to inform customers of the variety of pricing options available based on their origin and destination points. AQuickDelivery strives to be the best choice in same-day courier solutions throughout Atlanta and Georgia areas.
Automated rating is primarily determined by the distance from the origin zip code to the destination zip code. The AQuickDelivery courier service software technology, e-courier, can provide instant pricing for customers. If the customer decides to change the zip codes, the automated rate will adjust to the respective travel distance. This system allows customers to provide AQuickDelivery with any zip codes and the courier can provide the most competitive pricing for the requested same-day delivery service.
The automated rating with zip codes enables customers to create an optimal courier solution. The zip codes will affect the service rate. For a lower rate, customers can adjust their origin or destination location. The automated rating with zip codes can be requested via phone or online. The home page of the AQuickDelivery website offers automated rating, also known as an instant quick quote. The customer provides the zip codes, as well as the number of pieces, the ready time, the ready date, e-mail address, and vehicle type.
AQuickDelivery is available 24/7 for its customers for any questions regarding the automated rating via zip codes and meet all of their same-day delivery needs. For any high volume special requests, AQuickDelivery has sales representatives available to speak with and can create a special quote.
AQuickDelivery is a premier same-day courier offering transportation and distribution services. From small packages to palletized freight, AQuickDelivery delivers fast! As a leader in the courier industry, their goal is to perform optimal courier logistic solutions and superior customer service every time. The courier provides same-day delivery successfully for over 1,500 clients, including Fortune 500 companies.