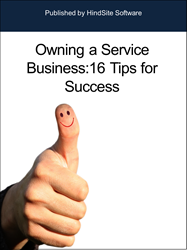 This list represents the things I wish I knew and had implemented from the very start of my businesses.
St. Paul, MN (PRWEB) May 30, 2014
HindSite Software today released a new eBook, Owning a Field Service Business: 16 Tips for Success. David Crary, HindSite's President and founder, wrote the free eBook based on some of the blunders he made in more than 30 years of business ownership in the hope that others will avoid them from the very beginning.
"A lot of what being successful in business comes down to is understanding the financial aspects of operating a business," explains Crary. "This eBook explains the knowledge necessary to be successful and how to apply it right from the start."
Crary breaks down successful business tactics into 16 clear tips. One topic he addresses is how to be honest and set boundaries with employees and customers alike. As he explains, "Employees are the bread and butter of your business, but make sure not to cross financial boundaries by giving them loans or advances, this only complicates things."
As a company that specializes in green industry software, HindSite deals with seasonal highs and lows, something that, if not financially planned for, can be a disaster. This eBook explains the simple ways to plan for your business' financial success.
With an easy-to-read layout and quotes from some of the most successful entrepreneurs, HindSite's new eBook aims to inform and entertain those in the field service industry.
Crary is a great resource for tips on running a field service business. He started his entrepreneurial career by owning a car wash, then expanded to a landscape irrigation business, before founding HindSite, a field service software company focused on delivering green industry software.
"This list represents the things I wish I knew and had implemented from the very start of my businesses." He goes on to explain, "Most of these I unfortunately had to learn the hard way."
One of the tips touches on how many small business owners and service business owners typically unintentionally live beyond their means. This is something that can be extremely risky to a business. Crary explains how to ensure that you will not spend beyond what you can afford, knowledge that will benefit your business' profitability greatly.
Of course not all Crary's tips are so obviously fiscal; he explains in the eBook the benefits of wearing your logo proudly. Crary uses personal examples and stories of how simply displaying your brand as often as possible will create professionalism and familiarity, thus turning prospects into customers.
"These tips serve the purpose of detailing what I consider through my own experience to be some of the most important aspects in creating a successful service business," Crary explained.
Owning a Field Service Business: 16 Tips for Success is available to download free at: http://hindsitesoftware.hs-sites.com/owning-a-service-business-16-tips-for-success.
About HindSite Software
HindSite Software has helped contractors better manage and grow their business with work order software since 2001. Initially designed as irrigation software, HindSite today assists service businesses with scheduling and billing, contact management, field data collection, and invoicing in QuickBooks® and Sage 50. When used by lawn care businesses, this paperless lawn care software has been proven to increase efficiency and organization, meaning greater profit potential with less administrative time.