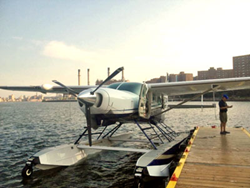 We launched our airline because we believe air travel should be fun, romantic, and personalized. Our guests deserve better options when they travel and we are very excited to offer our seaplane flights in New York. - CEO and Co-Founder Rob Ceravolo
New York, New York (PRWEB) June 04, 2014
As of June 1st, Tropic Ocean Airways, a South Florida based seaplane company, started operating eco-friendly executive seaplane charters in the New York area and the Hamptons. New Yorkers and tourists are plagued daily with trying to figure how to transit in and around the 'Big Apple'. Now, travelers have a competitive option to purchase personalized travel, skip long lines at airports, traffic, taxis, and arriving within an hour to multiple destinations.
Tropic Ocean Airways, owned and operated by military veterans, has been offering unparalleled and safe seaplane experiences to South Florida and the Bahamas since early 2011. The airline quickly became a household name in the Caribbean aviation industry through its superior customer service and unique way to fly. Tropic has expanded its seaplane service to New Yorkers, providing service from the East 23rd Street seaplane dock to all locations in the area, including the Hamptons.
CEO and Co-Founder Rob Ceravolo, a US NAVY fighter pilot and TOPGUN graduate, adds: "At Tropic Ocean Airways our goal is to create a safe, one-of-a-kind travel experience while providing professional and friendly service. We launched our airline because we believe air travel should be fun, romantic, and personalized. Our guests deserve better options when they travel and we are very excited to offer our seaplane flights in New York."
The airline's New York area flights are offered on an amphibious Caravan seaplane featuring an executive interior with fully reclining leather seats and power adapter ports for electronic media. Guests will receive a copy of the Wall Street Journal, snacks, and refreshments to enjoy. Additionally, nearly 100% of all flight-related carbon emissions are offset through a partnership with Terrapass at no cost to the guest, offering New Yorkers a more environmentally friendly travel option. The airline also believes in traveling responsibly by offsetting 100% of its Carbon Emissions at no cost to its guests.
Executive memberships will be offered on a first come, first serve basis for frequent fliers with savings of up to $10,000 per month based on membership tier. Additionally, guests will save time and money through the airline's personalized sales staff. "Automated apps and price-shopping sites are great when conditions are perfect to fly; however, any person that has flown realizes delays are inevitable. We at Tropic provide one-on-one personalized service to ensure every customer's needs are fulfilled without relying on programmed algorithms. We don't have clients, passengers, and users as most automated transportation services do, we have guests," said Ryan Custureri, Tropic Ocean's General Manager. The airline's sales staff is available daily and for emergency schedule changes, and can be reached by email, phone, or a contact form on the airlines website: http://www.FlyTropic.com.
Tropic's crews are experienced professionals and guests can be assured their comfort will be matched with superior service. "We developed Standard Operational Procedures based on my experience operating in a fighter squadron" said Ceravolo, a veteran aviator with two aircraft carrier deployments. "Our crews manage a safe, reliable, and successful operation and I am very proud of what the Tropic team has accomplished."
Tropic Ocean Airways Company Information:
Founded in 2009, Tropic Ocean Airways is co-based at the Fort Lauderdale International Airport and the Miami Seaplane Base in Florida. Utilizing amphibious aircraft capable of operating to runways or in the water, the company provides unique services to domestic Florida, Bahamas, and now New York and the surrounding region.
Tropic provides a 'one-stop' travel experience and a focuses on the ease of booking travel developed with the guest in mind. The airline has earned a solid reputation among travel professionals, resorts, clients, and is in good standing with the Federal Aviation Administration (FAA). The airline also believes in traveling responsibly by offsetting 100% of its Carbon Emissions at no cost to its guests.