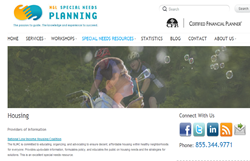 Recently, M&L took this emphasis on information-sharing one step further, and issued a call for questions and topic submissions.
Washington, D.C (PRWEB) May 29, 2014
M&L Special Needs Planning, LLC is a Washington, D.C.- based company that provides a wide range of services to individuals with disabilities and their families. Founded in 2009, the company is committed to providing these services in an empathetic, supportive environment, with an emphasis on information-sharing and a commitment to providing access to resources and tools that families need to make informed decisions. Recently, M&L took this emphasis on information-sharing one step further, and issued a call for questions and topic submissions. They have asked for their clients, readers of the blog, and members of the general public to contact them with any special needs financial or life planning questions or topics they may have, and M&L staff will research the question and post a response via their weekly blog.
How Can Questions Be Submitted?
According to M&L, there are a number of ways for individuals to submit their questions or topic suggestions. If readers are browsing through published blogs and would like to know more or ask a specific question related to that blog, M&L staff suggests asking that question via the comment section. Individuals can also submit questions and topics via the form on the Contact webpage of the website, or by email (info(at)specialneedsplanning.net) or fax (202-248-7635). Lastly, M&L staff suggest that individuals can also submit questions/topics via any of their social media accounts (Facebook, LinkedIn, Twitter, G+). These accounts can be accessed via M&L's website.
The company asks that individuals remember to leave an email address when submitting questions, regardless of the submission method that they choose. This email will then be used to notify the individual when the response to their question has been posted.
What Sorts of Questions Can Be Asked?
As M&L writes, the answer to this question is very simple - individuals can ask them anything! The company offers an incredibly wide range of services to families with special needs - everything from helping with special needs trusts, to comprehensive financial planning, to transitioning from high school to secondary school/adulthood, to housing for individuals with disabilities - and these are just a few examples! The company pledges to answer each and every question to the best of their ability - and, if they can't answer the question, they will find someone who can.
M&L staff do point out, however, that it is important to remember that the advice and information that they provide will be in the most general sense. Every family has a unique set of circumstances, and as such it would be virtually impossible to provide a one size fits all answer to a particular question. They suggest that individuals interested in specific information relevant to their own personal situation contact them for more information.
How Will My Question Be Answered?
Once your question has been received, a member of M&L staff will notify you via email. The question/topic will then be researched and will be answered either as a stand alone blog topic – with reference to the specific question being asked – or in combination with a number of similar questions, depending on the complexity. The individual that submitted the question will then be notified via our email subscription list as to when the blog is published, and which questions will be answered in that blog
When Can I Expect An Answer?
M&L publishes a blog once a week; as a result, the minimum waiting time is one to two weeks after the question has been submitted to receive an answer. The maximum waiting time for questions will depend entirely on the volume of submissions received, however the company promises to do their best to respond as quickly as possible. M&L suggests that individuals who are anxious to have their questions answered quickly should submit sooner rather than later, as questions will be responded to in accordance to when they are received.
M&L Special Needs Planning, LLC helps families plan for the futures of their families with special needs housing through services such as their Comprehensive Special Needs Financial Life Plan, as well as other services related to financial and life planning. Those who wish to learn more about the specific services that M&L provides can visit the M&L Special Needs Planning, LLC website and are encouraged to contact them for more information.