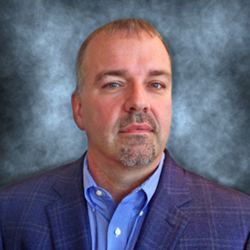 With his innovative vision, operating skills and broad management experience, Dennis is an ideal chief executive for this company.
Alexandria, VA (PRWEB) May 28, 2014
TransVoyant™ LLC today announced that its Co-Founder and President, Dennis Groseclose, has been promoted to President and Chief Executive Officer. Groseclose succeeds Co-Founder Tim Fleischer, who will remain as Chairman of TransVoyant, providing ongoing executive guidance and Board-level leadership.
Groseclose has served as President of TransVoyant since its founding in 2011 and is responsible for overseeing the company's operations and strategic vision – helping customers solve worldwide defense, security and information technology challenges. Dennis has extensive experience and expertise designing, implementing and operating real-time analytics and situational awareness solutions to assist customers in making critical business decisions while managing global risk.
Fleischer, Chairman of TransVoyant, stated "Dennis is an extremely talented and skillful executive who has produced strong results as President of TransVoyant. Dennis has shown a remarkable ability to anticipate and exceed customer expectations, build and inspire teams, and increase operational efficiencies. With his innovative vision, operating skills and broad management experience, Dennis is an ideal chief executive for this company."
Since co-founding TransVoyant, Groseclose has successfully driven growth and innovation. Under his leadership, TransVoyant has rapidly grown its solutions portfolio, including the creation of the real-time decision platform, CDI™. Under Groseclose, TransVoyant accelerated the expansion of its Continuous Decision Intelligence™ solutions and services by combining the capabilities of three firms – the proven technology and global logistics knowledge of Portal Dynamics, the risk assessment services of C-Bridge, and the unique IP portfolio of ObjectFX related to real-time geospatial analytics and complex decision technology. In addition to addressing next generation DoD and Intelligence mission requirements, the company is well positioned to play a key role in the rapidly growing commercial Internet of Things (IoT) marketplace.
"I am grateful and excited to lead TransVoyant at such an important time in its development," said Groseclose. "TransVoyant is extremely well positioned in the marketplace and has many exceptional growth opportunities. I look forward to continuing to work with our talented team to build upon our strong momentum."
Additional Information on Dennis Groseclose:
Dennis began his career in the U.S. Air Force, leading the Space & Missile Systems Center's acquisition restructure and management of the $37 billion unmanned space launch vehicle program. Afterward, Dennis joined IBM as Program Director for Worldwide Supply Chain Optimization – driving the global design, development, delivery and integration of IBM's logistics technology, supply chain optimization and Internet-based demand/supply collaboration solutions. He later became a Lockheed Martin Vice President leading businesses areas focused on Homeland Security, Intelligence and Logistics. At Lockheed Martin he led development and deployment of risk, targeting, analytics and intelligence solutions for U.S. Homeland Security and DOD agencies.
In addition to a Bachelors Degree from the Air Force Academy, Dennis holds an MBA from Louisiana State University, and a MS from the Air Force Institute of Technology. Dennis has served on Boards of the National Center for Simulation, the Center for Applied Identity Management Research and the Economic Crime Institute.
About TransVoyant LLC
In our high-volume data-driven world, TransVoyant solutions deliver real-time Continuous Decision Intelligence™ to global customers. TransVoyant solutions are used by business and government customers to make real-time and anticipatory decisions with high-velocity live location, time, context and preference information. Our decision and predictive analytics, IoT-empowering technologies and proven value-focused service methodology, combined with our long history of on-time and on-budget solution delivery, improve outcomes for our partners and customers.