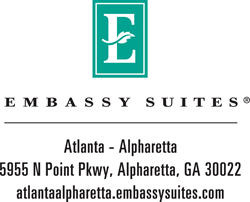 Alpharetta, GA (PRWEB) May 28, 2014
Guests traveling to the Atlanta Alpharetta area this summer will have the opportunity to experience one of the world's up-and-coming entertainment destinations: Topgolf . Topgolf® is the premier golf entertainment complex where the competition of sport meets your favorite local hangout. Just a 5-minute drive from the complex and a short distance from other local attractions, Embassy Suites Atlanta - Alpharetta offers a refreshing location for those looking for a unique weekend getaway.
Topgolf is the only entertainment center of its kind, offering competitive golfing games for all ages and skill levels and advanced technology to track players' shots. Those who just want to relax can enjoy the upscale, laid-back ambiance that boasts more than 230 HD flat-screen TVs, climate-controlled hitting bays, and an extensive food and beverage menu. Guests looking to test their skills at this new hotspot will delight in the hotel's close proximity to the attraction so they can enjoy a peaceful night of sleep after a day (or night) of fun.
This full-service hotel is conveniently located in the heart of Alpharetta's corporate, entertainment, shopping, and restaurant districts. Offering two-room suites and a wonderful complimentary Cooked-to-Order breakfast prepared in plain view, the Embassy Suites puts guests' comfort as its highest priority. The nightly Evening Reception includes complimentary cocktails, beer, and wine along with tasty snacks. Located within walking distance of many excellent restaurants, the Embassy Suites Atlanta - Alpharetta also provide complimentary shuttle service to Topgolf and the North Point Shopping Mall located approximately one mile away. Additionally, for those guests who wish to relax and not leave the hotel, an onsite bar and restaurant serve professionally crafted cocktails and dishes. Enjoy expertly prepared drinks at ''The Bar'' and then dine next to our beautiful atrium waterfall in ''The Cascades'' restaurant.
Call today and book your Topgolf getaway at the Embassy Suites Hotel – Alpharetta.
About Embassy Suites Alpharetta:
Discover the essence of suburban sophistication at Embassy Suites - Alpharetta. An all-inclusive hotel for corporate and leisure travelers, we provide exclusive amenities and handsomely appointed guest rooms. For guests planning events, we offer flexible, state-of-the-art function space with warm southern hospitality, exceptional catering and professional planners to ensure an unforgettable experience. Cherish an upscale community sanctuary at one of the finest hotels in Alpharetta for business or leisure, Embassy Suites Atlanta - Alpharetta.
For more information, to make a reservation or to submit a request for proposal, call 678-762-8701 or visit http://www.embassysuitesalpharetta.com.