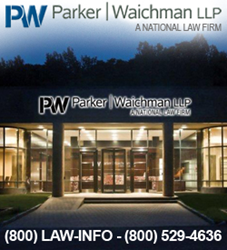 "Each year, thousands of women undergo minimally invasive surgeries for hysterectomy or uterine fibroid removal. ... unaware that use of power morcellators may spread a hidden, aggressive tumor," said Gary Falkowitz, Managing Attorney at Parker
Port Washington, NY (PRWEB) May 28, 2014
Parker Waichman LLP, a national law firm dedicated to protecting the rights of victims injured by defective medical devices, reports that a man has brought a lawsuit that alleges that his wife died of cancer spread by a power morcellator used during a routine hysterectomy. The complaint, Burkhart v. LiNA Medical US et al., was filed on March 14, 2014 (Case No. 5:14-cv-1557, filed in the U.S. District Court for the Eastern District of Pennsylvania, Allentown).
The man filed a negligence and wrongful death claim in Pennsylvania federal court over allegations that his wife's death was due to a rare uterine cancer that was spread through her body by a power morcellator, a commonly used surgical tool, during her 2012 hysterectomy, according to a Thomson Reuters report dated March 26, 2014.
Parker Waichman comments that it is aware of these lawsuits brought over potential injuries suffered following the use of morcellator tools. The firm understands that minimally invasive gynecological procedures in which power morcellators are used present potential and, often deadly, patient danger and reduced longevity, and is available to assist those who have suffered injury or the loved ones of those who have suffered injury following these types of procedures.
According to the Plaintiff, Scott Burkhart, his now-deceased wife, Donna, had "no evidence of disseminated or metastatic cancer" prior to her March morcellator-assisted hysterectomy in 2012 at a Reading, Pennsylvania hospital. She was, however, diagnosed with leiomyosarcoma, an aggressive uterine cancer, just nine days following the procedure, dying of metastatic leiomyosarcoma in February 2013, according to the complaint. The lawsuit asserts causes of action for negligence, strict liability, and breach of express and implied warranties, according to the Thomson Reuters report. According to Burkhart's allegations, his wife's cancer was spread—what was described as having been "seeded"—due to the power morcellator's rotating blades, which pulverized the tissue during her procedure.
Meanwhile, the U.S. Food and Drug Administration (FDA) issued a warning on April 17, 2014 concerning power morcellators and urging against the use of these tools during minimally invasive hysterectomies (uterine removal) or myomectomies (removal of uterine fibroid), as these surgical tools may spread a hidden cancer, which may significantly worsen a patient's prognosis. The agency explained that laparoscopic power morcellators break up pieces of tissue during surgical procedures, which makes the tissue more easily removable through tiny incisions made in the body. The agency communication indicated that power morcellators, when used in women who have an undetected uterine sarcoma (cancer), may spread the cancer to other parts of the body adversely impacting a woman's likelihood of long-term survival. According to the FDA, at least one in 350 women who undergo a hysterectomy or a myomectomy has an unsuspected sarcoma.
In this case, the Plaintiff's lawsuit includes a claim for survival based on his wife's lost future income, which includes her potential retirement and Social Security benefits. The metastasis, or spread, of his wife's cancer amounts to a "devastating injury" for patients like Donna Burkhart, significantly reducing life expectancy and changing their treatment plan, according to the Plaintiff's attorney, the Thomson Reuters report indicated.
Lead Defendants are LiNA Medical US d/b/a LiNA Medical, Blue Endo, and Ethicon Inc. Each firm is known to have supplied the hospital where Donna Burkhart's hysterectomy took place. Identification of the exact device used in her procedure is pending; however, the lawsuit indicates that the defendants advertise their uterine power morcellators directly to physicians, hospitals, and consumers as safe and more effective than other surgical methods, according to the Thomson Reuters report.
The Plaintiff accuses the device makers of concealing the power morcellator's ability to spread cancerous tissue within a patient's body and of concealing this fact from the FDA, the National Institutes of Health (NIH), and the medical community, wrote Thomson Reuters.
"Each year, thousands of women undergo minimally invasive surgeries for hysterectomy or uterine fibroid removal. They are likely unaware that use of power morcellators may spread a hidden, aggressive tumor," said Gary Falkowitz, Managing Attorney at Parker Waichman LLP. "Our firm continues to investigate cases in which power morcellators may have spread these deadly cancers."
In response to the FDA's warning concerning power morcellators potentially spreading hidden cancers, Johnson & Johnson, the largest maker of these devices, announced that it was ceasing sales of its power morcellator worldwide, but would not issue a permanent market removal of its devices. The devices include the "Gynecare Morcellex," "Morcellex Sigma," and "Gynecare X-Tract," according to an April 29, 2014 The Wall Street Journal report.
Parker Waichman LLP offers free legal consultations to victims of injuries allegedly caused by medical devices, including morcellator devices, and injuries allegedly suffered during fibroid removal. If you or a loved one experienced injuries during a fibroid surgery that might be associated with a morcellator device, please contact the firm's Uterine Fibroid Removal page at yourlawyer.com. Free case evaluations are also available by calling 1 800 LAW INFO (1-800-529-4636).