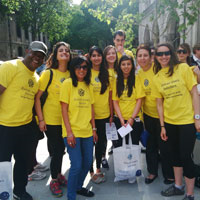 It was exhausting, tiring but uplifting knowing why we were doing it; in order to support not-for-profit free legal advice agencies who are now overwhelmed due to the drastic legal aid cuts
London, United Kingdon (PRWEB UK) 29 May 2014
Legal 500 nominated Duncan Lewis Solicitors joined over 8,000 other walkers in London's legal professions in taking part in the 10 year anniversary London Legal Walk on Monday 19th May 2014.
Thousands of participants scaled Central London for the 10km walk, beginning at the Royal Courts of Justice and ending at Hyde Park for the London Legal Walk 2014. The event, now in its tenth year, was organised to raise money in support of free legal advice charities in London and the South East in a time where Legal Aid contributions have choked many not-for-profit free legal advice agencies into non-existence.
The London Legal Walk is a yearly event organised by the London Legal Support Trust. The London Legal Support Trust works to support law centres and legal advice agencies in London and the South East by providing them with grant funding alongside other forms of support. They do this through large fundraising events, such as the London Legal walk. The funds raised from these events are delivered to the agencies where they are most needed through grant rounds.
In a statement on the organisation's website, the inspiration behind such is fuelled by their ethos;
"Access to justice should be equally available to everyone, regardless of their financial situation. This principle is at the cornerstone of the legal justice system in England and Wales. In practice it is not the case."
Last year over 7,500 participants took part in the event which raised over a staggering £530,000. This year the organisers aimed to make it the "biggest and best ever walk" in the event's history; which seems to have been an objective achieved with the greater number of participants this year.
Duncan Lewis Civil Litigations Director Anthony Okumah stated of the Duncan Lewis team's participation in the event; "It was exhausting, tiring but uplifting knowing why we were doing it; in order to support not-for-profit free legal advice agencies who are now overwhelmed due to the drastic legal aid cuts"
Duncan Lewis Solicitors, who have branches across London, are regular participants in the event. Members of the Duncan Lewis Solicitors who took part in the walk included; Civil Litigations Director Anthony Okumah, Civil Litigation Solicitor Shilpa Sehgal and Housing Department Solicitor Shabana Masood amongst others. Last year the firm raised an impressive £801.29, and aimed to beat this in this year's walk.
Images of the firm's team taking part in the walk can be found on their facebook account. In a statement on the London legal Support's website, Lord Justice Briggs said the event was;
"A thoroughly enjoyable walk, the marshals were excellent, and the whole experience an uplifting delight" in a statement on the London Legal Walk 2014 website.
About Duncan Lewis
Duncan Lewis, established in 1998, is the largest civil legal aid practice in the UK and one of the country's fastest growing firms of solicitors, serving both corporate entities and private individuals from offices across London and throughout the UK. A recommended leading law firm by Law Society Lexcel, Legal 500; Duncan Lewis employs over 500 members of staff and was the first law firm to achieve the Investors in People Gold Quality Standard Mark in 2009. Representing over 25,000 clients per year, the company has an excellent reputation in the Administrative Court, High Court and Court of Appeal in the Immigration, Public law and Family/Child Care jurisdictions.
Established areas of law are: business immigration, child care, civil liberties, clinical negligence, community care,crime and fraud, dispute resolution, debt and insolvency, employment, family and divorce, housing, Immigration, litigation, mental health, personal injury, prison law, professional negligence, public law and administrative law, regulatory matters and welfare benefits.