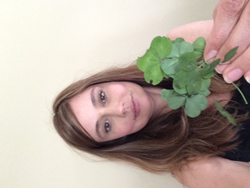 I have been looking for a four leaf clover all my life. My rescue dogs brought me all my luck.
Marietta, GA (PRWEB) May 30, 2014
Four leaf clovers are found by lucky people every day. However, one very lucky person, Julie Kimmerling found 15 over the 2014 Memorial Day Holiday weekend. Ms. Kimmerling may hold the world's record in finding four leaf clovers in only six days. Luck is associated with four leaf clovers the word over.
The clovers were found at Oregon Park located in West Cobb County, Marietta, GA. Ms. Kimmerling credits her new found luck to her two rescue dogs, Princess and Willie.
"I have been looking for a four leaf clover all my life," says Julie Kimmerling. "My rescue dogs brought me the luck." Princess, a 10 to 12 year mixed dingo, and Willie, a 2 year old hound dog get walked every day by both Ms. Kimmerling and her Marietta dentist husband, Kirk Kimmerling.
The first four leaf clover was a huge surprise. "I couldn't believe my eyes," says Ms. Kimmerling. Number 2, and 3 were also found on the first day, Saturday, May 24. The next morning, along came 5,6,7,8, and Monday 9,10,11 and 12. After work on Tuesday, May 27th, number 13 was found. Number 14 was found on Wednesday and 15 on Friday.
The odds of finding just one four leaf clover is 1 in 10,000, so Ms. Kimmerling's lucky steak is quite incredible. Both she and her husband have been consistently looking for the last five years, and all to no avail. "I was searching as much as my wife and didn't even find even one four leaf clover," says Dr.Kimmerling.
The daily walks at the park take about 45 minutes, so it is estimated that Ms. Kimmerling spent 4 hours finding the 15 clovers. It'll be interesting to see how the rest of her summer goes.
Marietta Vet Clinic and veterinarian, Julian Peckich DVM are pleased to welcome dogs and cats to the pet clinic, dog clinic and cat clinic. Dr. Peckich provides veterinary services for the Marietta, Kennesaw, Dallas, Acworth, and Powder Springs, GA. It would be their great pleasure to welcome dogs and cats to the pet family for cat vaccinations, dog vaccinations, sick animal relief, laboratory testing, pet teeth cleaning, veterinary dentistry, wellness exams, spay and neuter clinic and mobile veterinary services.