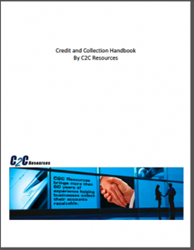 We are excited to release a resource that can be utilized by all account receivable professionals when dealing with past-due customers.
Atlanta, GA (PRWEB) May 29, 2014
C2C Resources, a business debt collection agency, announced today that they have released a free e-book titled, "Credit and Collection Handbook." The free ten chapter resource guide serves as an introduction to businesses that are in need of collecting past-due debts from customers.
Within the PDF-based e-book, the commercial collection experts at C2C Resources walk readers through the steps of collection: from best practice tips for extending credit to customers, to a recommended collection timelines to the sometimes unavoidable litigation process when resolving a commercial debt collection dispute.
The concept behind the 26-page e-book is two-fold: to help businesses develop a well thought-out collections plan before tackling their first collections call and to help optimize collections efforts at businesses with established methods.
"This e-book is designed to highlight, at an introductory level, the steps and best practices to maximize the profitability of a company by not allowing debtors to slip through the cracks," said Todd Tinkler, President of C2C Resources. "We are excited to release a resource that can be utilized by all account receivable professionals when dealing with past-due customers."
The C2C Resources e-book is intended to be utilized with the company's free web-based accounts receivable management system, Profit Maximizer. The contact management system provides account receivable departments with sections to record notes, schedule calls and track their progress with delinquent customers. The system provides collections letter templates, recommended actions and call scripts to help the business.
Tinkler explains the benefits of pairing the e-book with Profit Maximizer. "By pairing our two resources together, you can put your best foot forward for success. There are multiple input options from QuickBooks, making it easy to start using. Let us start helping you measure your progress with the recovery of profits from accounts."
About C2C Resources:
C2C Resources is a global Commercial Debt Collection agency headquartered in Atlanta, Georgia. The company collects commercial debt on behalf of their over 20,000 clients and is considered one of the top agencies in the country. The executive team at C2C brings more than 60 years of experience helping businesses collect their accounts receivable.
C2C's powerful combination of Profit Maximizer, InfoMax Collection System, and Legal Forwarding Edge, can help your company be more effective with your own in-house collecting and maximize recovery of accounts turned over for collection.