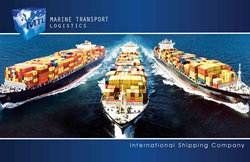 Our incentives offer valuable savings on every shipment throughout the summer.
Bayonne, NJ (PRWEB) May 29, 2014
Marine Transport Logistics (MTL) is pleased to announce an exciting new incentives program that will offer numerous benefits to their loyal customers and others who wish to take advantage of the savings on international cargo shipping. Marine Transport Logistics is an NVOCC-licensed cargo carrier that offers exceptional shipping services from any port in the USA to destinations all over the globe. They specialize in exporting large, expensive items like cars, boats, machinery, heavy equipment and other items.
The Special Incentive Program includes:

Loyalty customer discount for every 5th shipment by MTL
Free stagings at every US facility operated or affiliated by MTL*
Complimentary safety package for used units or LCL shipments
Central dispatch assistance at a flat, fixed rate
Full photo portfolio on each & every shipment with a loading procedure recording
Financial & purchase program for overseas wholesale accounts via major auto auctions / affiliations
These incentives will be available from now until August 31st of 2014 and they are designed to save shippers money and show appreciation to those who have been loyal customers of MTL for many years.
Marine Transport Logistics has been in business for over 20 years and has built a solid reputation in the cargo shipping industry as a company that can be trusted with even the most precious cargo. They give each shipment special attention and provide many personalized services such as special requests.
The MTL website highlights the company's wide range of services, such as international auto shipping. As a major cargo shipping company, they are able to give clients the benefit of years of experience, along with highly effective automation tools for international cargo shipping.
Marine Transport Logistics ships about 150,000 vehicles each year throughout the world. Their main office is located in Bayonne, NJ where they own over 10 acres of land that houses professional loading docks and 10 platforms. The facility utilizes the very latest in security systems and is well protected by video surveillance and guards. The docks are open 24 hours a day, 365 days a year. In addition, they have offices and agents in all major U.S. ports, in the Middle East, Europe, Asia, Africa, Central America and many other ports around the world.
With strategic partnerships at all major ocean carriers, they have the ability to ship almost anything worldwide. MTL has exceptional resources so that they can transport any size item anywhere, including cars, RV's, heavy machinery, engines, transmissions, boats, yachts, and trucks of any size.
Company spokesperson, Dimitry Alper had this to say: "We simply want to say thanks to our many faithful customers who have used our services time and again. We would not be where we are today if it weren't for the great support we get from our clients. Our incentives offer valuable savings on every shipment throughout the summer."
With over 20 years of experience, MTL is a major world port presence (30+) and operates with the highest standards. A highly qualified staff and state-of-the-art software sets MTL apart from other cargo shippers. Their long list of professional services can be customized to meet all types of needs. Services include ocean freight forwarding, air freight forwarding, cargo warehousing, container loading, door-to-door delivery, cargo consolidation services, customs clearance for import and export, and multimodal transportation services.
About MTL
Marine Transport Logistics has warehouses all over the USA near all major seaports. They offer exceptional Roll-On/Roll-Off - RoRo services specializing in shipping cars overseas. The company can load up to 6 compact cars into a single container providing a huge cost-savings to customers and they guarantee delivery in 15 or 17 days. MTL can ship cars overseas to every port in the world: Finland, Germany, United Emirates, Lebanon, Libya, Russia, Africa, Middle East and Central America countries.
For more information about MTL and their services, please visit http://www.mtlworld.com.