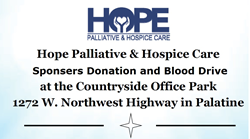 Thanking all in advanced for their participation.
Palatine, IL (PRWEB) May 30, 2014
Hope Palliative & Hospice Care announced today they will be hosting two donation drives this June. The first is a collection for gently used clothing and small household items. The donations will aid the Savers Foundation Community Donation Center and the Epilepsy Network's Community Services Program.
Hope Hospice will accept donations anytime between 9 a.m. and 5 p.m. from June 4, 2014 through June 11, 2014 at their Countryside Office Park location: 1272 W. Northwest Hwy in Palatine, IL. Angela L. Click, Assistant Administrator for Hope Hospice says, "There are so many people in need today, and we want to aid families and individuals who might be struggling right now. I hope taking action gives strength and inspires others in the community. Giving back is such an empowering feeling and is the driving force behind my motivation at Hope."
As a capstone event to their donation drive, Hope Hospice will host the Lifesource organization for a mobile blood drive. Hope Hospice encourages the community to donate blood on Wednesday, June 11, 2014 from 8:30 a.m. 2:30 p.m. in the parking lot of the Countryside Office Park (1272 W. Northwest Hwy in Palatine). Hope Hospice strategically timed both events to overlap and give options to those wishing to support the community.
Lifesource will use these donations in the greater Chicagoland area for those in need this summer. "Summertime is a difficult time for our hospitals and the Lifesource organization who supplies them with the blood needed in their emergency and surgery departments. In the summer, donations drop off just as a greater need for blood arises due to accidents, surgeries, and trauma events," says Lauren Ivory, M.Div., BCC, Senior Chaplain and Bereavement Specialist for Hope Palliative & Hospice Care.
Individuals interested in learning more about Hope Palliative & Hospice Care can visit http://www.gohopehospice.com and/or call 847-803-0400 24 hours a day, 7 days a week for a free consultation.