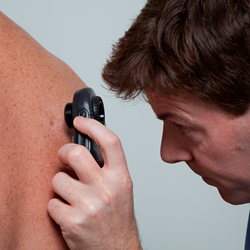 Our advice is always 'if in doubt, check it out'. Any mole causing concern should be seen by a professional as soon as possible.
London, UK (PRWEB UK) 29 May 2014
Cosmedics Skin Clinics are one of the UK's leading providers of cosmetic skin treatments and are best known for removal of moles, skin tags, warts and cysts. Their team of doctors have removed literally thousands of skin lesions for cosmetic reasons.
While most moles are harmless from a medical perspective, those that develop into malignant melanoma can be deadly. Skin cancer is on the rise – Cancer Research UK statistics show that rates of malignant melanoma have risen 5-fold since the 1970s. Spotting it early is vital to the best outcomes.
Cosmedics Skin Clinics have created an eye-catching new infographic to help educate the public. The graphic explains the difference between harmless and potentially harmful moles, as well as providing a helpful guide as to what to look for in checking moles based on the 'ABCDE' rule – Asymmetry, Border, Colour, Diameter and Evolving moles.
The infographic also shows where men and women are most likely to develop moles, although the advice is to check all over every 2-3 months, looking for the 'ugly duckling sign' of suspicious moles.
Cosmedics' founder, Medical Director and Aesthetic Doctor, Dr Ross Perry MBBS, explains:
"Our advice is always 'if in doubt, check it out'. Any mole causing concern should be seen by a professional as soon as possible."
"There's no need to be embarrassed and it can be quite difficult to work out what is harmless and what is not. If the doctor has any concerns, they will refer patients to a specialist on the NHS or privately if preferred, where the mole will be assessed further and removed quickly if it is thought to be any risk. It will also be tested."
Fortunately most moles are medically harmless, yet many of these can still be a problem. Most adults develop more moles as they get older and they can be unwelcome for cosmetic reasons, such as a large size, an awkward location (e.g. facial) or hairiness. Raised moles can catch on clothing or get irritated with chafing.
Unfortunately, cosmetic mole removal is not available on the NHS, but Cosmedics Skin Clinics offer a private service through a network of mole removal clinics with a convenient a 'same day removal service' where possible, which is popular with busy patients. Cosmedics' team of doctors are trained in the latest minimal-scar techniques and offer a choice of laser mole removal, shave excision or ellipse excision surgery, depending on the type of lesion. Cosmedics is a leading UK provider of laser and surgical skin procedures.
Cosmedics' policy is to send all moles away for histology testing as a precaution, a service which is provided for comprehensive care and ultimate peace of mind. In addition to mole removal, the team also offer diagnosis and treatment for other lesions such as warts, skin tags, cysts and verrucae.
Cosmedics Skin clinics achieve high patient satisfaction ratings and have recently received the WhatClinic.com "Five Star Treatment Customer Service Award" after a series of excellent independent reviews. The company works hard to maintain high standards of professionalism and discretion throughout and are renowned for their honest and safety at all costs approach.