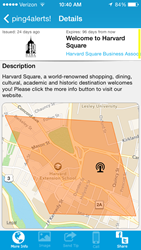 Nashua, New Hampshire (PRWEB) May 30, 2014
Beginning this summer, visitors to Harvard Square will receive highly targeted, relevant messages from the Harvard Square Business Association (HSBA) via ping4alerts!. Visitors to the Square will receive information about vendor and retail promotions, street closures, construction projects, special events, and safety concerns.
"Harvard Square attracts over 8 million visitors each year," said Denise Jillson, Executive Director of the Harvard Square Business Association. "We are always striving to engage with the Square's visitors to create the best experience. Using ping4alerts!, the HSBA can message visitors with pertinent information and utilize the private communication channel for our staff and members."
Ping4alerts! is a free iOS and Android app that uses the location-based technology inherent in today's smartphones to deliver notification within a highly-localized area. Using any web-browser, the HSBA can notify visitors inside the Square. Ping4alerts! protects user anonymity and does not require users to provide any personally identifiable information such as a phone number, street address, or email address. These mobile notifications are delivered over the Internet through GPS, cellular, and available Wi-FI networks.
The Harvard Business Square Association will become the second commercial organization in the United States to use ping4alerts! for the purpose of mobile event management. In Massachusetts, ping4alerts! is currently used statewide by the Massachusetts Emergency Management Agency and locally by Worcester County, Dukes County, and Nantucket, to alert Commonwealth citizens about public safety events. The Boston Red Sox' Single-Affiliate, the Lowell Spinners, will begin using ping4alerts! this season for mobile event management.
By placing a geofence around Harvard Square, visitors can receive location-specific information for events. Visitors can also access Google Places within the app to find nearby parking, browse the Square's shops, and choose from one of the many restaurants.
"The value of our product is the ability to reach users in a defined area with timely, relevant information," said VP of Marketing, Norm Archer. "The Tiger Woods Foundation successfully piloted the platform during the Deutsche Bank Championship last September, using ping4alerts! to notify golf fans about incoming weather, where to stay dry, and where to grab a cold beverage."
Visitors to Harvard Square are encouraged to download ping4alerts! by simply visiting the App Store or Google Play.
About Ping4 Inc.
Ping4 Inc. is a mobile communications company delivering real-time, location-based alerts to any iOS or Android device. Public safety agencies license the platform to keep citizens informed of extreme weather events and other fast-moving situations. Users are not required to provide any personally identifiable information. User identity is 100% protected. More information is available at http://www.ping4.com.
Contact: Kyla Natali
Public Relations Manager, Ping4 Inc.
Email: Kyla(dot)Natali(at)ping4(dot)com
Phone: (603) 548-8533