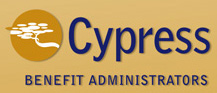 It's especially important to keep track of the details related to employee leave and monitor any changes in dependent status.
Appleton, WI (PRWEB) May 29, 2014
In a recent assessment of employer-client consultations, Cypress Benefit Administrators – a third party administrator (TPA) with locations across the U.S. – found ineligible employee and dependent coverage to be one of the top issues to arise.
Cypress found that many employers have dealt with the costly consequences of offering coverage to employees and their dependents who no longer meet eligibility requirements.
According to Tom Doney, president and CEO of Cypress, employer-clients who are required to issue a summary plan description (SPD) under The Employee Retirement Income Security Act of 1974 (ERISA) standards must be diligent about adhering to the exact document language that specifies a company's health plan eligibility.
"Whether they are simply unaware of the circumstance or sympathetic to an employee's leave or layoff situation, we've seen many cases where employers offer health plan coverage to associates who no longer meet the eligibility definition," Doney explained. "This can add up to tens or hundreds of thousands of dollars in out-of-pocket expenses for the employer when high-cost claims are incurred and coverage has expired."
In reviewing recent cases, Doney said it is essential for employer-clients to have a solid understanding of all the language within their SPDs and to ensure that all requirements are met for each individual covered under the company's health plan. He explained that working with a TPA can help self-funded employers easily and effectively identify ineligible participants and make plan adjustments.
"Documentation and recordkeeping are essential to proactive plan management," Doney said. "It's especially important to keep track of the details related to employee leave and monitor any changes in dependent status."
To help employer-clients avoid ineligibility issues with their employee and dependent coverage, Cypress has put together a list of top 10 tips to follow as a best practice:
1. Review summary plan description (SPD) language from your benefits administrator and make sure that you fully understand it.
2. Compare the SPD to your own company policies and ensure consistency.
3. Complete regular assessments to make sure your company is adhering to the exact eligibility requirements specified for employee and benefit coverage.
4. Check to make sure all enrollment applications and related paperwork is filled out and on file.
5. Monitor all changes to employee status, including leaves of absence, layoffs, terminations, retirements and changes in classification (full-time to part-time, seasonal, etc.) and update eligibility accordingly.
6. Monitor all changes to dependent status (marriage or divorce, birth or adoption of a child, etc.) and update eligibility accordingly.
7. Maintain detailed documentation for all employee work hours completed, payroll and absences, and track the specifics for using FMLA, vacation time, sick time, etc.
8. Keep all documentation on file in the event that a stop-loss carrier requests details related to FMLA, COBRA or any authorized leave of absence.
9. Consider any options for SPD provisions that may extend leave for certain situations and update plan language and company policies accordingly.
10. As SPD language is updated, communicate changes to employees and provide them with the latest documentation published.
"We've seen how costly it can be for an employer to offer coverage to an ineligible employee either voluntarily or unknowingly," Doney said. "Health plan coverage is something employers really need to stay on top of."
A privately held company headquartered in Appleton, Wis., Cypress Benefit Administrators has been pioneering the way toward cost containment in self-funded health benefits since 2000. The third party administrator (TPA) is the country's first to bring claims administration, consumer driven health plans and proven cost control measures together into one package for companies ranging from 50 employees to thousands of employees. It serves employer-clients across the U.S. with additional locations in Portland and Salem, Ore., Omaha, Neb. and Colorado Springs, Col. For more information on Cypress and its customized employee benefits, visit http://www.cypressbenefit.com.