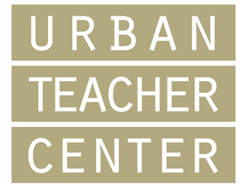 UTC is committed to creating a pipeline of effective, knowledgeable educators seeking to take on the challenges we see in far too many hard-to-staff schools. - Jennifer Green, CEO, Urban Teacher Center
Baltimore, MD (PRWEB) May 28, 2014
Sixty-seven members of Urban Teacher Center's (UTC) teacher preparation program received their master's degree from Lesley University, UTC's higher education partner, at the university's recent commencement ceremony in Boston. These graduates include twenty-six teachers from the UTC program in Baltimore and forty-one from the UTC program in the District of Columbia.
"We are proud of these graduates," said UTC CEO Jennifer Green. "Proud of them for their hard work, their excellence in the classroom and their commitment to improving the achievement of all learners."
The UTC program requires a four-year commitment from participants. During the first year, UTC residents spend 13 months (two summers, plus a full school year) working side-by-side with experienced teachers in host classrooms in DC and Baltimore. At the same time, they take graduate-level courses designed by UTC and Lesley that is tied to their specific classroom work.
As a result, all UTC residents receive more than 1,500 hours of real-time experience in four different classroom settings before becoming teachers in their own classrooms. As full-time UTC teachers, all 67 of these graduates continued to take coursework while receiving intensive coaching support from UTC's clinical faculty.
This month's graduation ceremony marks the completion of year two for these UTC educators, each earning a dual master's degree in special education and their content area. At the end of next year, after three years in the UTC program, those who have also met a high bar in classroom observations and in raising student learning outcomes will receive certification.
"We know that the single most important factor for student success is quality teaching," Green said. "Yet we also know that that far too many children do not have excellent teachers. UTC is committed to creating a pipeline of effective, knowledgeable educators seeking to take on the challenges we see in far too many hard-to-staff schools. We commend these graduates for their commitment to the program and to their classrooms. Each of them intends to continue on the instructional path they began two years ago, and I am confident each will leave a lasting mark on their communities and on the children they teach."
Founded in 1909 by pioneering educator Edith Lesley, Lesley University conferred more than 2,000 degrees and certificates, including 1,446 master's degrees, 473 bachelor's degrees and 26 doctoral degrees. At the graduate ceremony, Lesley awarded honorary degrees (doctor of humane letters) to commencement speakers Lois Lowry, author of "The Giver" and a two-time Newbury medal winner, and Priya Manickchand, Guayana's minister of education and social security. Lesley serves as UTC's higher education partner.
About Urban Teacher Center
Urban Teacher Center believes that schools need a guarantee: every teacher they hire should be able to improve student outcomes. UTC's innovative, multi-year teacher preparation model ensures that every teacher it certifies has demonstrated effectiveness in the classroom.
About Lesley University
Lesley University educates more than 7,500 women and men a year, and is one of the nation's largest providers of graduate professional education opportunities to K-12 educators, boasting 45,000 education alumni, and over 82,000 alumni in all. Anchored by a strong liberal arts curriculum, Lesley offers undergraduate and graduate programs in education, the arts, human services, and the environment at its Cambridge and Boston campuses, online, and in a number of states. Lesley University prepares individuals for lives and careers that make a difference, and serves the evolving needs of students and a diverse society through innovative programs and pedagogy, high quality instruction, scholarship, advocacy, and outreach.