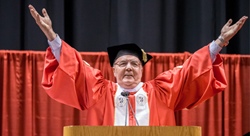 "Passion is the reason for choosing a career – not money, not fame – passion."
Montclair, NJ (PRWEB) May 28, 2014
Montclair State University held its 2014 Commencement exercises on Friday, May 23, at the Izod Center at New Jersey's Meadowlands Sports Complex and conferred 4,382 degrees to the largest graduating class in the University's 106-year history. The Class of 2014 includes 3,210 undergraduate and 1,172 graduate students.
Montclair State University President Susan A. Cole presided over the ceremony, which featured a Commencement address delivered by James B. Patterson, the award-winning author of more than 100 books.
A perennially best-selling author, Patterson has sold more than 270 million copies of his books worldwide, which include the best-selling Alex Cross, Michael Bennett and Women's Murder Club series. He is the first author to achieve 10 million e-book sales and he holds the Guinness world record for having more New York Times number one bestsellers than any other author. Patterson has received numerous awards, including the Edgar Award, the BCA Mystery Guild's Thriller of the Year Award, the International Thriller of the Year Award and the Children's Choice Book Award for Author of the Year.
After receiving an honorary Doctor of Letters degree from the University, Patterson addressed the Class of 2014 and spoke of the lasting impact of stories on people's lives. "I'm talking about the power of real stories to change real lives," he said. "The power of stories that help us understand the world better than we knew."
"I love writing stories; I'm incredibly passionate about it," said Patterson in offering some advice: "Passion is the reason for choosing a career – not money, not fame – passion."
Patterson also is a passionate supporter of reading and education. In 2013 alone, the author and his wife, Susan, funded more than $1 million in scholarships at a number of colleges and universities – including Montclair State – for future teachers who are committed to providing students with the foundation for a lifetime enjoyment of reading. The first James Patterson Teacher Education Scholarships at Montclair State were awarded in 2012 to eight undergraduate students and 16 undergraduate and five graduate students each received awards of $7,500 a year in 2013. At this year's Commencement, 12 scholarship recipients graduated.
Greetings from the senior class were offered by Michael Christopher Rosin, who received a Bachelor of Arts in Music, with a concentration in Music Theory and Composition. The Westfield, New Jersey resident will attend the San Francisco Conservatory of Music as a master's degree student in Music Composition next year.
A committee of graduate faculty and students selected Mark F. Russo as the graduate student speaker. Next year, Russo, who received a doctorate in Mathematics Education, will be starting a new job as the district supervisor for mathematics for the Pascack Valley Regional High School District.
View Commencement photos at smugmug.com, a snapshot video is here, and the full Commencement Ceremony is on YouTube.
# # #
Montclair State University
Building on a distinguished 106-year history, Montclair State University is proud to be a leading institution of higher education in New Jersey. The University's six colleges and schools serve more than 19,500 undergraduate and graduate students in 300 majors, minors, concentrations and certificate programs. Situated on a beautiful, 250-acre suburban campus just 14 miles from New York City, Montclair State combines the instructional and research resources of a large public university in a dynamic, sophisticated and diverse academic environment.