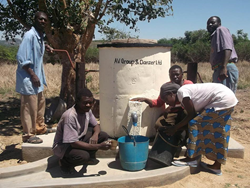 The 'Elephant Pump' is based on a 3,000 year old Chinese design which is easily maintained and draws water from up to 30 metres underground. Two million people currently use these pumps in Africa for their domestic water needs.
(PRWEB UK) 30 May 2014
AV Group and Danzer Limited are aware that keeping its staff members hydrated will help them to perform at their very best throughout their working day. It made sense then when they decided to invest in water coolers from AquAid – that the company took the opportunity to help those less fortunate than themselves in Africa.
The decision to install a water cooler from AquAid means that for each one of the machines that they have, AV Group / Danzer donated cash for water wells to The Africa Trust.
Through those contributions to The Africa Trust, an 'Elephant Pump' which was designed by Ian Thorpe, has been installed in Africa on their behalf. This pump will bring much needed, clean, fresh drinking water and improve the quality of life of those who will have access to the well.
Elephant Pumps can be maintained in challenging and poorer areas without any outside assistance, and are built in response to local demand following consultation with communities. Local people assist in the building of the pumps with materials and unskilled labour. The pumps can also supply irrigation to help communities grow their own crops for diet and trade.
AV Group and Danzer are supporting AquAid, who along with their sister company Perfect Printer Cartridges have donated over 6 Million Pounds to charity.
The AV Group of companies provide modular buildings solutions all over the UK. Call 0800 012 6563 for more information or visit http://www.avdanzer.co.uk.