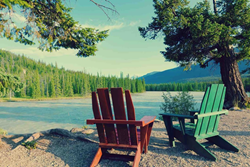 Vacation rental booking is a rapidly growing industry that's set to take on hotels in coming years.
Canmore, Alberta (PRWEB) June 12, 2014
Featuring the most desirable vacation rental properties in some of Canada's most spectacular vacation destinations, LeaveTown is superbly positioned on the cutting edge of a growing tourism trend in this country.
Vacation rentals have become increasingly attractive to travellers looking to improve the quality of their stay. Millennials and boomers are vacationing with extended families and wanting authentic boutique accommodations and off the beaten track unspoiled experiences.
"Vacation rental booking is a rapidly growing industry that's set to take on hotels in coming years," says LeaveTown 's CEO and Founder, Mike Liverton. According to leading travel market researchers, online rental bookings have doubled from 12% in 2007 to 24% in 2012. This represents a tremendous opportunity for LeaveTown as it meets the changing demands of the evolving tourism market.
"Renting a vacation property allows you to enjoy a real home away from home while on vacation," adds Liverton. "You can live like a local with the extra space, privacy and amenities, not to mention enjoying exceptional value for your money."
To that end, leavetown.com users can now search for best pricing across vacation rentals using amenity filters. They can also read reviews from multiple sources, including TripAdvisor, Google, Yelp and LeaveTown. Then create shortlists to share with friends and family before booking online.
The new LeaveTown website also features trusted insider advice from our Destination Experts on events, activities and things to do, as well as the lowdown from local personalities.
Look for more updates as LeaveTown continues to expand its presence in iconic Canadian destinations offering great year round family getaways.
About LeaveTown
LeaveTown Vacations Inc. emerged from its founder's passion to bring families together and to help travellers explore Canada's great outdoors. LeaveTown owns and represents vacation rentals in Canmore, Banff, Lake Louise, Jasper, Parksville, Osoyoos, Fernie, Kimberley, Revelstoke, Kicking Horse Mountain and Mont Tremblant. LeaveTown Destination Experts stay current on events and activities in each destination to provide local insights to travellers in each resort location, allowing them to make the best use of their valuable holiday time.