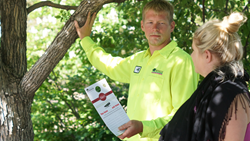 'By the time you see signs of the insect, it may be too late for the tree; emerald ash borer is stealth,' says Swingle's Plant Pathologist Steve Geist.
Denver, Colorado (PRWEB) May 29, 2014
Emerald ash borer is considered the most destructive urban forest pest even seen in North America. Since the discovery, the pest is responsible for killing more than 50 million ash trees in over 20 states and two Canadian provinces. Ash trees in the Denver Metro area are posed with a real threat, with an estimated 1.45 million trees at risk according to the Colorado Department of Agriculture. Emerald ash borer is raising many tree care questions with Denver homeowners along the Colorado Front Range: the main concern being treatment.
"As Colorado's lawn care and tree service experts, we are committed to keeping our clients updated on threats to our Colorado landscapes. It's important we create awareness about emerald ash borer sooner than later, so homeowners can make an informed decision. By our calculations, we've reached approximately 59% of our clients and plan to hit 90% by the end of July," Swingle President, John Gibson states.
Before homeowners jump to conclusions, it is important to determine if ash trees are present in their yards. Ash trees have compound leaves with 5 to 11 leaflets, branches & buds are in pairs directly across from each other, and a tree with mature bark has diamond shape ridges. If you have a hard time identifying the tree, it is best to contact a professional arborist first. There have been various successful methods of treatment in the mid-west where the majority of the damage has occurred. Swingle Lawn, Tree & Landscape Care has worked with national companies to bring homeowners proven solutions. Products being used have been successful methods of treatment with those who have experience the devastation already.
Deciding on the best approach to treat ash tree(s) depends on several factors such as tree size, condition, and the proximity to the known affected area of the emerald ash borer. After a professional arborist has evaluated the tree, treatment options include either an injection in the soil or the truck or a basal bark spray (spraying the trunk).
•Trunk Injection (Arborjet TREE-age®) - Injections can start in late May through June. It is effective for at least two years; yet research has shown it can last longer. Truck injections are recommended for trees within 15 miles of the known detection site. A trunk injection may also be used if a soil injection is recommended, but the soil is not accessible.
•Soil injection (Criterion) - Soil injections can be made mid to late spring and fall. A soil injection will protect tree(s) for one year. Swingle recommends soil injections for trees 15 miles outside of the detection site in Boulder, Colorado. Professional soil injections can place the insecticide below turf or mulch to directly reach the root zone of the tree.
•Trunk spray or basal bark treatment (Safari) - Trunk spray is applied in June. The spray is effective for one growing season. The basal truck spray offers the advantage of being easy and quick to apply.
It is important to note ash trees have a better probability of surviving emerald ash borer if the tree has maintained a healthy status, being properly pruned, previously not infested by other pests, and adequately watered. Many ash trees in Colorado have been attacked by native insects for years and have not received enough moisture due to our semi-arid climate. Ash trees infested with emerald ash borer may be saved if the infestation hasn't reached critical mass, but the survival rate decreases significantly. Homeowners will have to decide the value the ash tree has to their landscape, whether it be financial or sentimental. Unhealthy trees exhibiting numerous signs of emerald ash borer or other pest infestation will have a harder time surviving and may die causing a threat to your property and requiring removal. To prevent infestation, prune dead branches that would weaken the tree and have the tree examined immediately if you believe the tree has been infested.
"By the time you see signs of the insect, it may be too late for the tree; emerald ash borer is stealth," says Plant Pathologist Steve Geist.
At some point, Colorado homeowners with ash trees will face emerald ash borer. They can ignore the problem, treat the ash tree(s), or choose not protect it. We believe it's important to provide them the most accurate information regarding all options, so they can make an informed decision. We've developed a proprietary Emerald Ash Borer Investment Calculator to help provide the necessary information to make a decision. During a free evaluation, Swingle expert arborists can share the cost of treating vs. removing and planting a new tree vs. waiting to remove the tree after it's infested. It's important Colorado homeowners with ash trees know their options, as there will be costs associated with emerald ash borer regardless of what choice is made.
About Swingle Lawn, Tree & Landscape Care
Founded in Denver in 1947, Swingle Lawn, Tree and Landscape Care has grown to be the one of the largest residential and commercial lawn service and tree care companies in Colorado, employing more certified arborists than any other Colorado company. For information, please contact Kellie Houghtaling; khoughtaling(at)MySwingle(dot)com; (303) 337-6200; or visit http://www.MySwingle.com/contact.