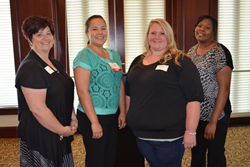 It's very moving to see the pride of accomplishment in their faces.
Indianapolis, IN (PRWEB) May 30, 2014
With the help of American Senior Communities and the Opportunities to Nursing Excellence Program, 15 senior healthcare workers are wearing RN and LPN caps.
They all completed nursing programs at accredited schools, with costs paid by American Senior Communities, a network of 65 Senior Rehabilitation and Memory Care facilities throughout Indiana. They were congratulated during a luncheon at the Bridgewater Country Club in Carmel.
The Opportunities to Nursing Excellence (O2NE) program helps nursing staff become licensed practical nurses and registered nurses. Since the program asks graduates for no obligation to ASC, they are free to use the education wherever they choose.
Of the 15 staffers, nine have completed training to become registered nurses and six have completed work to be licensed practical nurses. Most of them have already passed their accreditation exam.
American Senior Communities locations across the state nominate staff members who go through a rigorous application process to enter the program. Selected candidates are offered the opportunity to return to school, fully paid for by ASC. They are also given a 30-hour work schedule while being paid for their regular 40-hour schedule, allowing additional time for classes and study. ASC also provides assistance for childcare, alleviating another common stress point for adults returning to school. This is the program's fifth year.
Dan Benson, COO of American Senior Communities said, "It's been amazing to see the impact this achievement has had on their lives, the lives of their families, and on the people they care for in our communities. It's very moving to see the pride of accomplishment in their faces. They did the hard work; we just afforded them the opportunity to do it."
The Indianapolis metro area graduates, programs they completed and ASC locations where they are employed are: Sharon Kranzman, RN, Autumn Ridge Rehabilitation Centre; Mary Smith, RN, Bethlehem Woods Nursing and Rehabilitation; Dawn Hyde, RN, Betz Nursing Home; SuJon Kuter, pending passing State Boards for RN credentials, Coventry Meadows; Brenda Macijack, RN, and Heather Kiger, RN, Eagle Valley Meadows; Shannon DeBlase, RN, East Lake; Crista Wilde, LPN, Franklin Meadows; Christina Turner, LPN, Heritage Park; Danielle Johnson, LPN, and Oletta Webb, RN, Riverside Village; Candas Becht and Krista Couch, LPN, Tracy Taylor, RN, all with Riverview Village; and Tiffanie Scott-Cook, LPN pending passing boards, Rosegate Village.
For more information about American Senior Communities, please visit http://www.ASCSeniorCare.com.
Seniors Guide, a Richmond, Va. -based company publishes Seniors Guide magazines throughout Cincinnati, Ohio; Dayton, Ohio; Indianapolis, Indiana; Raleigh-Durham, North Carolina; Richmond, Virginia; and Roanoke-Lynchburg, Virginia and features a correlating website of http://www.SeniorsGuideOnline.com. Seniors Guide's mission is to help seniors and their families find the information they need on options available in senior housing, senior care, assisted living, independent senior living, retirement communities and other retirement living needs. Seniors Guide also has resources at HomeCareChoice.com for Cincinnati, Ohio; Dayton, Ohio; Raleigh-Durham, North Carolina; and Richmond, VA. Ross Publishing, Seniors Guide's parent company, began in 1991 and has been publishing helpful, free publications and websites ever since.