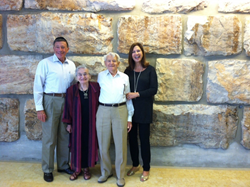 "We felt a strong connection to the project and knew it needed to be shared."
White Plains, NY & Jerusalem, Israel (PRWEB) May 28, 2014
During a recent trip to Israel, White Plains residents Bob and Sheila Friedland funded the remarkable new archival collection "Synagogues without Jews" at the Yad Vashem Holocaust History Museum located in Jerusalem. The road to completing the collection was both interesting and rewarding.
When Bob Friedland began studying Hebrew through an organization named Ulpan Or, he took online classes taught by a young woman in Israel named Sarah Ben-Shofet. During his studies, Friedland was introduced to Ben-Shofet's grandparents, Ben-Zion "Benny" and Rivka Dorfman.
During a recent visit to Israel, the Friedlands took Ben-Shofet out for dinner and learned of the project – "Synagogues without Jews" – her grandparents had devoted themselves to over the past 30 years. "Synagogues without Jews" encompasses 30,000 pictures of abandoned synagogues throughout Europe, along with oral histories and videos of communities that no longer exist.
"We felt a strong connection to the project and knew it needed to be shared," Bob Friedland said. Previously, the Friedlands funded the restoration of a synagogue in Split, Croatia.
It was extremely important to the Dorfmans that the collection be showcased at the Yad Vashem, but a lack of funds halted the installment. Bob and Sheila believed the collection was too valuable to sit unseen – and so decided to sponsor it through their nonprofit, the Bob and Sheila Friedland Foundation. Currently, the archives are being digitized and will be available to scholars and the public for research.
The Friedland's bond with the Dorfmans was furthered strengthened when they realized how closely their lives intersected. Years ago, Benny Dorfman was a research scientist at Einstein Medical Center in metro New York, and Rivka taught Hebrew at temple Israel Center in White Plains.
"Sheila and I have a unique way of choosing projects to fund," Bob Friedland said. "Through our travels, we meet people who introduce us to new ideas which resonate with us and that we believe will make a significant impact."
The renovation of the synagogue in Croatia and the "Synagogues without Jews" project are just two examples of the work carried out by the Bob and Sheila Friedland Foundation. Bob and Sheila Friedland have also funded a Unistream Center in Or Yehuda, Israel which pairs children from impoverished cities with some of the best and brightest in Israel to teach them about entrepreneurship. Another major commitment of the Friedland's is Project Kesher, a grassroots organization working towards women's empowerment and Jewish renewal in the countries of the former Soviet Union. They have traveled to this part of the world numerous times.
Some of the greatest enjoyment during their trips to Israel is that Bob is frequently asked to speak to the kids at the Unistream Center about entrepreneurship and his successful career – which he now does in Hebrew.
The Dorfman Archive of Synagogue Art and Architecture, "Synagogues without Jews," opened October 21, 2013 at the Yad Vashem Museum in Jerusalem. Bob and Sheila look forward to visiting often and continuing the great work of their foundation.