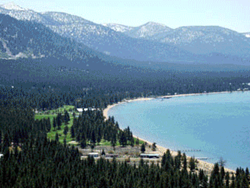 June 2014 Tahoe once again brings out the best in entertainment, and, with such a variety of intriguing events it can be hard not to be pulled in a thousand different directions.
Lake Tahoe, CA (PRWEB) June 11, 2014
June 2014 Tahoe once again brings out the best in entertainment, and, with such a variety of intriguing events it can be hard not to be pulled in a thousand different directions. Luckily the editors of VirtualTahoe.com have looked at them all and narrowed it down to a concise list that appeals to all ages.
Concerts
With an amazing variety of genres and artists, Tahoe easily appeals to casual listeners and die hard music lovers alike, so that June 2014 is sure to be one of the most impressive months for music anywhere in the country.
On June 6th from 5 p.m.-9 p.m., the Heavenly Village Concert Series presents the brilliant Bluegrass of Merry Gold, and on June 14th from 5 p.m.-9 p.m., get out your sandals and get ready to kick back in relaxation because the Jam Rock band High Beamz will be bringing their unique sound to the stage. Need a dose of the Caribbean? Turn your ears towards the reggae beats of Island of Black and White, playing on June 21st from 5 p.m.-9 p.m. And last but certainly not least, Tahoe will be welcoming activist, singer, songwriter, and chart topper Sarah McLachlan at Harvey's Outdoor Arena on June 24th starting at 8 p.m. For a full list of upcoming concerts and tickets, visit http://www.virtualtahoe.com/playground/events.html.
Valhalla Renaissance Faire
Put on your jester hat and journey back to a time of castles, queens, and knights in shining armor. Located at Camp Richardson in South Lake Tahoe, the Valhalla Renaissance Faire will be stunning audiences with Renaissance reenactments on June 1st, 7th and 8th. Look for a fine piece of jewelry or unique attire at one of the many shops. Buy a small snack or a meal fit for a king. Witness archers aim for the bullseye. Or just sit back and watch two armor clad individuals charge head on at each other in the jousting competitions. This is history made fun, and whether you know a little or a lot about the Renaissance, you are sure to have an experience that you'll be talking about for a lifetime.
America's Most Beautiful Bike Ride and the 7th Annual Tour of the Carson Valley
The United States is without question one of the most charitable countries in the world, and if you're one of the many looking to give back, the Leukemia & Lymphoma Society helps sponsor this tremendous event. Starting on June 1st with America's Most Beautiful Bike ride itself, you can take a 72 mile trek that travels through both California and Nevada, and makes stops at the equally beautiful Emerald Bay, Homewood Mountain Resort, Kings Beach and Spooner Junction. Not quite up for a 72 mile journey, but drooling at the thought of seeing such awe inspiring sights? Sign up for the Lake Tahoe Half Ride Fun Tour, where you will sit comfortably while cruising through North Lake Tahoe, and then join up with the other cyclists for a 36 mile ride back to the Montbleu Casino Resort & Spa, which is offering discounted rates for the participants, as well as an after party with both meals and live entertainment.
If you can't make it to America's Most Beautiful Bike Ride, register for the Annual Tour of the Carson Valley, which takes place on June 22nd. With optional routes for max or minimal mileage, as well as a Barbeque and Ice Cream Social, you can ride along the Sierra Nevada Mountains with ease and enjoy an easy going Sunday with the whole family.
Race the Lake of the Sky
As if burying your feet in the sand and viewing the picturesque waters of Lake Tahoe weren't enough, on June 25th, 26th, 28th and 29th the Lake fills with paddleboarders of all skill levels. At El Dorado Beach, located in Toiyabe National Forest, spectators and participants can take part in or watch the 14.4 mile Emerald Bay Distance Race, the El Dorado 5 Miler, the 800 yard SUP Cross, the 400 yard Grom Race, or the Team Relay. Not sure how to paddleboard, or simply wanting to increase your skills? Get online and sign up now for lessons from pro paddleboarder Danny Ching.
With raffles, free music, and a happy hour at the end of the day, the Race the Lake of the Sky is jam packed with good times from start to finish. For more information, visit http://racethelakeofthesky.com/.
About VirtualTahoe.com:
VirtualTahoe.com, Lake Tahoe's number one online guide, provides quality information on all things Tahoe. Use VirtualTahoe.com to find information on everything Lake Tahoe from vacation lodging and casinos to ski resorts and boat rentals.