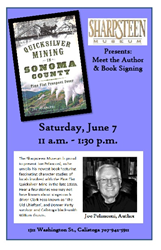 Calistoga, CA (PRWEB) June 02, 2014
Rooted in Calistoga's history is quicksilver mining and the Sharpsteen Museum is excited to bring some of this historical intrigue to their upcoming "Meet the Author Day." From 11:30 a.m. to 1 p.m. on June 7, Sharpsteen Museum will be hosting Joe Pelanconi, author of "Quicksilver Mining in Sonoma County – Pine Flat Prospect Fever."
Pelanconi is a career educator and local historian, has published numerous articles in educational journals and is the author of three books published prior to Quicksilver.
This newest book by the author tells the story of the quicksilver mining boom that took place in the 1870's on the western slopes of the Mayacamas Mountains and embraced the areas that lie on both sides of Sulphur Creek. This district later became known as the Cinnabar Mining District. Claims were staked, and a rowdy camp took shape as farmers traded plows for picks and miners answered the siren call of cinnabar.
In this compelling account, Pelanconi shares intriguing stories like those of Calistoga blacksmith and Donner Party survivor, William Graves. Though not successful in his mining attempts, he did manage to father as many as six children with a Pomo woman whom he never married and later abandoned. Clark Foss, the "Old Chieftan," was Calistoga stagecoach driver who built the toll road from Calistoga and is famous for driving a team of six jet-black horses over roads barely seven feet wide. At the event, learn about Foss's horrific accident of 1880, where his coach and team plunged into a deep canyon, killing one young woman.
Also at the event, read the stories of Chinese laborers who worked the mines in danger of mercury poisoning and the two brothers who were leading citizens of the district and purported victims of murder.
Be inspired after hearing "A Pine Flat Ghost," a story that dives into the shared heritage of the Calistoga community and a lost era when eccentrics and dreamers sought shining flasks of riches in the mountains above today's wine country.
Don't miss this one-day event. Books can be purchased at the museum for $19.99 each and autographs by author Joe Pelanconi are free.
The Sharpsteen Museum's permanent exhibits are designed to present the history of the upper Napa Valley from its pre-history to post World War I with an emphasis on people and changes brought by the period of U.S. emigration and development.
In addition to its many historical exhibits, the Museum uses unique and extraordinarily extensive dioramas to depict Calistoga during its period as the elegant 1860s Hot Springs resort developed by pioneer, promoter, publisher, entrepreneur and California's first millionaire, Sam Brannan. Sharpsteen Museum has special exhibits which change twice a year, every six months, and reflect the varied interests of the people of the Valley. They have ranged from antique silverware to model ships to historical musical instruments.