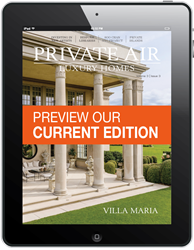 Private Air Luxury Homes Magazine literally jumps off the shelf.
Ft. Lauderdale, FL (PRWEB) May 29, 2014
"Private Air Luxury Homes Magazine literally jumps off the shelf – We could use more of the publication," comments Nancy Bouvier, Director of Marketing for Banyan Air Services. Banyan Air located in Ft. Lauderdale, Florida has been, since 1979, an outstanding example of delivering aviation excellence to each and every customer. Private Air Luxury Homes Magazine is pleased to accommodate an increase in volume.
Thomas L. Helbig, Marketing Director for Private Air Luxury Homes, works tirelessly to deliver the best of the best of this caliber print media. "We are excited that our Private Air Luxury Homes magazine is so highly accepted by private jet travelers. We look forward to the continued relationship with Banyan Air Services and spreading our fine reputation for quality publishing."
About Private Air Luxury Homes Magazine
Private Air Luxury Homes Magazine is a bi-monthly high-end exclusively elegant magazine for private jet owners, operators, and users. It is found onboard private jets and in homes of the world's wealthy. The magazine is distributed via Fixed Base Operators (FBOs), corporations, and private subscriptions to worldwide leaders of industry, royalty, heads-of-state, celebrities and other individuals who expect high standards of excellence. Expectations of interest to readers include investment opportunities, fine art and the unusual of collectibles, and ultra high-end, worldwide selections of homes and properties.
An example of the extent to which luxurious living can be discovered inside the pages of Private Air Luxury Homes Magazine is to be found in the current May/June 2014 issue. Most elegantly featured is Villa Maria, an estate currently available in Southampton and reflects not only New York's Gilded Age, but would rival anything Jay Gatsby could have imagined in elegance and allure. "The home is baronial," says Tim Davis, top broker with Corcoran Group, "it simply cannot be duplicated in the Hamptons today." At an incredibly sized 22,000 square feet, the estate set in lush surroundings is worth a flyover by reserving an expert pilot and aircraft.
About Banyan Air
Aviation professionals have consistently ranked Banyan Air as a top FBO. 24-hour red carpet service as a Port of Entry assisting U.S. Customs, NATA Safety 1st trained line service technicians, the only independent repair station with FAA/EASA certification for Argentina, Aruba, Belize, Brazil, Cayman Islands, Colombia, and Venezuela, 10 customer support representatives, and a large fleet of ground support equipment is what contributes to that excellent rating and keeping safety a priority. Over 528 aircraft use 8 hangars to accommodate aircraft up to a Gulfstream 650. Banyan offers more avionics services than any other FBO in the Southeast with 175 team members working in seven departments dedicated to all facets of avionic service.