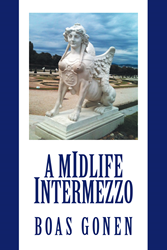 The topic of how and why music has such a powerful effect on our lives intrigues me and hopefully it comes through in the book.
Wynnewood, PA (PRWEB) May 29, 2014
"An opera begins long before the curtain goes up and ends long after it has come down. It starts in my imagination, it becomes my life, and it stays part of my life long after I've left the opera house." – Maria Callas
For the fictitious physician Vip Van Buren, the opera becomes a significant part of his life after a chance encounter with the world's most famous opera singer, Svetlana Borisenko. From there, their complicated and exciting romance begins. In Boas Gonen's new book, "A Midlife Intermezzo," Vip risks his career and family in pursuit of love that may be clouded by the opera. Does he love the singer or the character she portrays?
With complex characters and realistic environments, Gonen provides readers an insight into two contradicting worlds. One world that emphasizes the power and elegance of art and music and the other emphasizing a dysfunctional and fast-pace lifestyle in a hospital.
Gonen's love for the opera and background in medicine provides an authentic addition to the characters and setting in the book. He takes readers on a journey from New York's Metropolitan opera to European cities of Vienna, Amsterdam and Copenhagen.
"Boas Gonen offers a drama of the human soul in "A Midlife Intermezzo," the compelling story of one man's midlife crisis gone awry," said a Foreword reviewer.
"A Midlife Intermezzo"
By Boas Gonen
ISBN: 978-1-4918-4409-0
Available in softcover and e-book
Available on Amazon, Barnes & Noble,Author House and many more.
About the author
Boas Gonen is a physician who specialized in diabetes and cholesterol disorders. He has published several medical papers, spoken at medical conferences and professional lectures, been a teacher, and provided care to thousands of patients. He is the author of "The Third Patient." "A Midlife Intermezzo" will be apart of the Foreword's exhibit at the Book Expo America in New York City. Gonen enjoys writing and finds happiness in music.