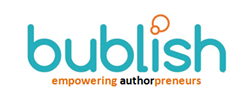 Charleston, SC (PRWEB) May 28, 2014
Bublish — the only cloud-based platform providing a complete social marketing and digital publishing solution for today's business-savvy authors — is exhibiting at this year's Book Expo America. Conference attendees will want to connect with Bublish Founder Kathy Meis at various BEA events and sessions as she shares her passion and keen insights for building author brands and book marketing success.
Author Hub Launch
Bublish joins Hugh Howey, CJ Lyons, Barbara Freethy and other bestselling authors at the launch of BEA's Author Hub, located in the main exhibit hall between booths 3328 and 3302. In this exclusive environment, entrepreneurial authors can glean insider tips from other authors and publishing professionals. Friday, May 30 at 11 a.m., Kathy Meis presents "Reaching Readers - Beyond the Writer Community" to Author Hub attendees who will hear insights about how to build an author brand and reach readers.
uPublishU Author Conference
Join other authors at the "Engaging Readers: Getting Your Book Discovered by Readers" session in room 1E09. Saturday, May 31 at 11:30 a.m., Kathy Meis joins a panel to discuss tips critical for author success, including ways to effectively leverage social media marketing.
Win a Two-Hour Social Media Intensive
Team Bublish will be on hand to offer expert marketing advice throughout the day. uPublishU attendees who stop by the Bublish table on Saturday, May 31 have an opportunity to win a virtual two-hour social media intensive session with Bublish Founder Kathy Meis and a Bublish t-shirt. Drawings will be held every hour from 9 a.m. to 4 p.m.
Authorpreneur Dashboard Perpetual Pricing
Bublish's new subscription-based marketing suite, the Authorpreneur Dashboard, helps authors find, engage and grow their audience. Special "early adopter" pricing is available for a limited time at 60 percent off the standard rate. Authors will want to lock in the $7.95/month perpetual pricing to take advantage of current and future feature sets. Once this offer ends, the regular monthly rate of $19.95/month will apply.
About Bublish
Bublish is a publishing technology company that offers cloud-based tools, metrics and resources to equip today's business-savvy authors for success. An innovative, award-winning platform, Bublish empowers "authorpreneurs" by providing a complete social marketing and digital publishing solution. Launched at Book Expo America in June of 2012, Bublish is changing the way writers share their stories and reach their readers. Thousands of authors around the world are already using Bublish to promote their work and build their brand. http://www.bublish.com Follow us: @BublishMe, Facebook and Google+.