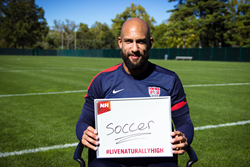 Competition to be the best individually and as a team, that's what gives me my high—I know that if I work really hard, and I can refine some things in my game, then I can shoot to try and be the best.
La Jolla, CA (PRWEB) May 30, 2014
Today, Natural High released its newest drug prevention video, featuring U.S. Men's National Team goalkeeper Tim Howard as their latest athlete ambassador. Howard, who was just named to the 23-player U.S. roster for the 2014 FIFA World Cup, stars in a video that is one of 40 produced to inspire youth to pursue their passions and stay away from drugs and alcohol.
"Soccer and competition – both individually and as a teammate – give me my natural high," said Howard. "Sports were too important to me as a kid to risk using drugs, so I am honored to join Natural High in their campaign to empower youth to say no to drugs."
In his Natural High video, which can be viewed at http://www.naturalhigh.org/Tim-Howard, Howard shares his journey growing up drug-free and how he came to recognize at a young age that his life could have been negatively impacted by using drugs and alcohol. This motivated him to keep his focus on soccer, which he did with much success.
The US Men's National Team and English Premier League (EPL) goalkeeper describes how setting goals off the soccer pitch is the path to success. Howard's focus and drive have led him to three wins in the World Cup and illustrious careers in both the MLS and EPL. Recently, he jumped at the opportunity to continue playing until his 40th birthday, signing a contract extension with Everton through the 2017-18 season.
CRITICAL TIMING FOR YOUTH DRUG PREVENTION MESSAGING:
In light of the recent heroin epidemic, several states' legalization of marijuana, and being on the eve of the world's most-watched sporting event, Howard's video comes at a time when young people need to hear positive messages around living drug-free.
Inspiring close to 7 million youth to live drug-free every year, Natural High collaborates with today's most influential role models to capture stories of how they chose to follow their passions instead of turning to drugs. In addition to Howard, Natural High celebrity ambassadors include professional surfer Bethany Hamilton, Grammy Award-winning Switchfoot, motocrosser Travis Pastrana, NBA star Mike Conley Jr., and Olympic gold medal gymnast Jordyn Wieber.
As Natural High celebrates 20 years of encouraging youth to set goals and follow their dreams, the non-profit organization will run a social media contest for an autographed Tim Howard US Soccer jersey and ball. To learn more, follow Natural High on Facebook, Twitter and Instagram.
ABOUT NATURAL HIGH
Natural High is a 501(c)3 nonprofit organization inspiring youth to discover, amplify and pursue their natural high, giving them a reason to say no to an artificial high. In collaboration with dozens of influential celebrities, Natural High engages youth in classrooms via their video series and research based curriculum, which is provided free-of-charge to all schools in the U.S.; online via NaturalHigh.org, and social media; and in the community via merchandise and events like Vans Warped Tour. They currently work with more than 17,000 educators and reach 7 million youth every year. For more information, visit http://www.naturalhigh.org.