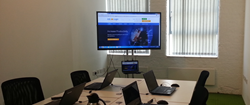 Consultancy days are worth their weight in gold...as they have proven, time and time again, an effective springboard to successful training.
Birmingham, UK (PRWEB UK) 25 September 2014
Birmingham based Software Company JobLogic have introduced consultancy days which focus on helping both new and existing customers increase efficiency and revenues through individually tailored sessions. Consultancy days can come in various forms including pre-training, two day training, three day training and refresher training.
For new customers, pre-training consultancy days are a great way to prepare users and fine-tune the JobLogic system for the main two or three day training session itself. These pre-training consultancy days will focus on developing the foundations needed for the two and three day sessions. "Pre-training consultancy days are worth their weight in gold," said Training Manager Paul Webb, "as they have proven through our trials to be an effective springboard to successful training".
For existing customers, it is important to remain up to date with best practices in the changing landscape of service management software. As JobLogic is continuously updated, providing new benefits and important upgrades, it is important to learn about new tools within the system.
All sessions are interactive and rely on input from delegates to create a personalised service. JobLogic encourages those attending to share as much information as possible including relevant data, as this means a schedule for the day can be created that is fully tailored to their requirements. This preparation will make sure the atmosphere at the training session is relaxed and always moves at a pace delegates find comfortable; not at the pace of a predetermined script.
The training team has over 25 years of combined experience. Training Manager Paul Webb has been with JobLogic for over 7 years and Glen Barber has more than 13 years working in the training industry providing individual, on-site and classroom based training and mentoring. "My previous role as a business process analyst has really benefited JobLogic customers because helping companies to improve their job management process is one way in which we really add value to them," said Glen.
Along with experienced staff and focused training, the quality of the environment in which training takes place is of equal importance. Previously, JobLogic used presentation facilities at another location, far from their actual offices and convenient amenities. This denied customers the opportunity to interact with the team that had created their software.
The current training location is right next to Birmingham city centre and its prestigious Bull Ring shopping centre. This makes the prospect of attending training more attractive, with dining and entertainment facilities close by. It is also possible to meet members of the team including sales, marketing and management.
Visit their website and request more information about JobLogic's consultancy services including pricing or to book a session for yourself or your business.