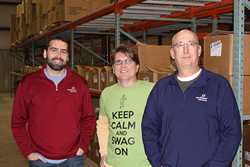 After doing the math and talking with a couple of co-workers, we decided we'd make a go of it.
Topeka, KS (PRWEB) May 30, 2014
When Mike Eldridge was young, he'd do anything to get a new T-shirt. He ran in 5ks, donated blood and even put life and limb in danger to find that perfect position to catch shirts thrown into a crowd. Eldridge is now investing in his passion by buying a promotional products company that sells customized T-shirts, among other creations, to businesses.
Eldridge had worked in the marketing department at Sunflower Marketing for eight years when he learned that the company was going to be sold. "At first, I thought I was in the wrong place at the wrong time," he remembers. "That was until I spoke with our CEO, who encouraged me to do my due diligence. After doing the math and talking with a couple of co-workers, we decided we'd make a go of it."
Eldridge pooled his resources and experience with colleagues Craig Hughes and Bill Kampsen to purchase Sunflower. The three partners have more than 34 years of experience working for Sunflower alone; Hughes worked as the plant manager for one year, and Kampsen was the creative director for more than 25 years.
A local business adviser introduced the three entrepreneurs to Guidant Financial, a nationwide company specializing in using 401(k) rollovers to fund business investments. Eldridge, Hughes and Kampsen each used Guidant's services to fund their portion of the purchase. "[Guidant was] very patient with us," Eldridge said. "Once it became evident that a deal was imminent, things moved quickly, and they were there to answer all of our questions."
All three partners now enjoy developing and selling the products and services they're passionate about.
Apart from the business, both Hughes and Kampsen enjoy relaxing on the lake, while Eldridge, a father of three young girls, spends most of his free time playing dress-up or having tea parties.
To learn more about Sunflower Marketing and order your own customized products, visit sunflowermarketing.com, email sunflower(at)sunflower(dot)com or call 800-337-1097.
About Sunflower Marketing
For more than 30 years, Sunflower Marketing, has provided a full range of promotional marketing tools that create awareness for brands in the corporate, non-profit and school markets. Their strengths are as complex as developing and operating online company stores, and as simple as ensuring the perfect promotional product for your next corporate event or tradeshow. Their fulfillment capabilities, along with their superior customer service skills, are just a few of the reasons why they consistently rank among the top 50 distributors within the promotional product industry. Check out their products and services at sunflowermarketing.com.
About Guidant Financial
Guidant Financial helps people create the life they want through innovative small business financing. They are the premier provider of rollovers for business start-ups (ROBS). Guidant's services allow people from all walks of life the freedom to make time-sensitive investments using their retirement funds without taking a taxable distribution or getting a loan, in addition to offering traditional funding options such as SBA loans and unsecured credit. Visit Guidant on the Web at guidantfinancial.com.