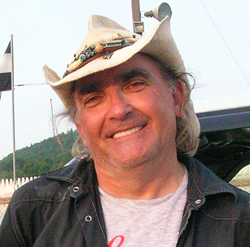 A remarkable singer and an exceptional player... with the songs and the scars to show for it! Thank you for coming to Vermont!Steve Ellison/UVB
Burlington, VT (PRWEB) June 10, 2014
Eric Sommer, Pop Americana artist, is seeing a change in the universe.
For anyone watching the meteor showers these last few weeks, they might have seen one star shooting against the grain and heading into the stratosphere.
And that would be Eric Sommer.
Recognition and national attention are finally catching up with this elusive everyman singer, songwriter, guitar player and acoustic style leader. And that is as it should be.
After years on the road, this artist is finally rising to the top and there are few artists more prepared, more deserving and more loved and appreciated in small town America than Eric Sommer. Mr. Sommers' dates on this tour reflect his belief in small towns and small rooms, harking back to something Pete Seeger said before he passed away which was essentially this: "If you want to make a difference, reach people directly and effect change, small rooms are the best environment."
That collection of "small" rooms on this outing perfectly reflects this approach and it starts off in a wonderful room in Newtown Square, PA called "Burlap and Bean which is small, intimate and acoustically perfect for the format. Small rooms continue in the Pennsylvania part of this tour and give way to slightly larger rooms in Chicago:
ERIC SOMMER SMALL ROOM TOUR
NEWTOWN SQUARE, PA - burlap and bean • 6/13
LOCH HAVEN, PA - avenue 209 • 6/14
NEW HOPE, PA - john & peters • 6/16
ANN ARBOR, MI - Ann Arbor farmer's mkt • 6/18
SAGINAW, MI - whites bar • 6/19
CHICAGO, IL - horseshoe • 6/20
CHICAGO, IL - redline tap • 6/24
CHICAGO, IL - devon street • 6/25
CHICAGO, IL -reggies • 6/27
Mr. Sommer is now working with Pea Patch Island Entertainment, which represents his material in Philadelphia and Los Angeles. Eric's acoustic style is finding its way into television, film and feature-length animations. They connected in a small acoustic room in Southern New Jersey recently.
Mr. Sommer's live shows have evolved to include a more highly focused, fairly disciplined improvisational approach. The British Pop/Power Pop influences of Dave Edmunds and Nick Lowe are still there on his last record "Rainy Day Karma" in some wonderful Eric Sommer 3 minute Pop Gems: Red Queen, Tell Me What I'm Doing Wrong and Sunny Afghanistan. These provide a delicious contrast to the wide-open improv of "Bayou Ballet" and "Thunder Stick".
Mr. Sommer's short pop gems give contrast to the wide-open, full throttle, make-it-up-on-the-fly approach evident in recent shows and collections. The transition works well live and translates nicely to the recorded media, but at the end of the day, there is nothing like a live show to fire the imagination.
One of the noticeable standouts in any Eric Sommer show is the on-the-fly improvisational approach to many of the breaks, solo sections and dramatic lulls in an "audio-wash, wall-of-sound" presentation. The combination of raw amp feedback cycled with acoustic guitar overtones that seem to merge in the air is a remarkable process to experience.
Eric started his musical career in the Boston area and has been a regular player on many national tours and showcases. He worked in Europe for 2 years on Danish, German and British rock stages, returned to Boston and formed The Atomics, a cult power-pop band in South Boston. His influences are as diverse as Townes Van Zandt, Steve Earle, Steve Howe and The Ramones.
Phil Ochs, Russell Malone, David Landau and Pat Martino, Joe Pass and Charlie Christian round out a spread of musical influences.
Mr. Sommer's current project with power trio "The Solar Flares" shake up Chet Atkins and David Bromberg influences with those of Randy Travis and Elvis Costello - a remarkable mix.
With open tunings, slide guitar, lap-slap tone guitar and a remarkably aggressive fingering style approach, watching Eric Sommer will make you jump out of your seat and holler for joy. There are very few players who have maintained this authentic American style of guitar and Eric Sommer is one of the very best.