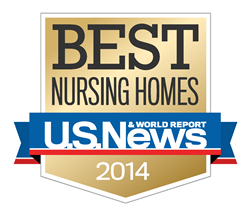 Rated 5 Stars by Medicare
Riverside, California (PRWEB) May 30, 2014
More than 3 million Americans spent at least part of 2013 in a skilled nursing facility, or nursing home, and similar numbers are expected for 2014. Many times, these individuals and their families encounter difficulty in choosing the right nursing home. Frequently asked questions such as, "Where will I receive the highest quality care?" "Where will I be treated like a resident, not just a patient?" and "Where is the cleanest nursing home with the best food?" weigh heavily on their minds during their selection process.
To try to make this important choice easier, U.S. News and World Report recently released its fifth annual "Best Nursing Homes" report. Using data from the federal agency that sets and enforces standards for nursing homes, U.S. News awarded the "Best Nursing Home" designation to homes that recently earned an overall rating of five stars, highlighting the top nursing homes in each state and nearly 100 major metropolitan areas. The ratings cover nearly 16,000 nursing homes nationwide and are freely available at http://www.usnews.com/best-nursing-homes. Medicare similarly rated each nursing home with one to five stars based on separate measures of quality of care, health-inspections record, and level of nurse staffing.
At the top of this list is Villa Health Care Center, a facility serviced by North American Health Care, Inc. Medicare has given all 35 facilities serviced by North American Health Care a five-star rating. Statistically, less than 23% of all skilled nursing facilities in the United States will achieve this level of success. No other similar organization in the United States has consistently achieved this level of patient care.
"We've made it a goal to maintain a level of excellence in the way we care for our patients," said Trevor Lords, Administrator of Villa Health Care. "We are excited about our third 5-star rating from Medicare and recognition from US News and World Report. Our biggest gratification is from knowing we are making a difference in our patients' lives every day."
Residents are highly complimentary. "This is the cleanest medical facility I have ever been in"; "Great food" and "I'm happy to be going home soon, but part of me is saddened to be leaving so many who played a big role in my recovery" are some of the most recent testimonials that speak to the quality, community and care of Villa Health Care Center.
For more information about Villa Health Care Center, please visit http://www.VillaHealthCare.com or contact (951) 689-5788.
About Villa Health Care Center
Villa Health Care Center is one of the best skilled nursing facilities located in Riverside. We provide 24-hour skilled care and rehabilitation services in a comfortable and friendly environment. Villa Health Care Center has received a 5 star rating in the survey section of the 5 star report and CMS (Centers for Medicare and Medicaid Services) has recognized us in the top 10% of this state in our survey results for the last 3 years.
About North American Health Care
Our goal at North American Health Care, Inc. is to assist our client-serviced facilities in providing five-star patient services for every person served. This is a serious and monumental undertaking--one we enjoy the challenge of accomplishing. Our client-serviced facilities' ratings reflect the organization's commitment to excellence in patient care, which includes the desire to provide every aging individual serviced a dignified experience.