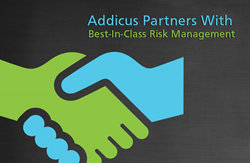 Addicus clients can have confidence that their coverage is comprehensive, with liability gaps covered, while being highly competitive in the marketplace
(PRWEB) May 29, 2014
Addicus has partnered with TDC Risk Management (http://www.tdcriskmanagement.com), one of the nation's top risk management providers for affluent personal lines insurance. TDC will perform complimentary reviews of Addicus clients' personal insurance programs. The review is comprehensive yet non-invasive and the results are quick and consolidated into one report. Homes, autos, jewelry, umbrella, trusts, LLC's, etc. – the more someone has the greater the need and more effective this review will be.
Addicus' partnership with TDC also allows clients access to a group umbrella policy through AIG's private client group that offers discounted pricing, limits up to $50 Million, ease of insurability, purchasing power, and broadened coverage. To qualify one must be a "client" of Addicus and have a minimum net worth of $5 Million. This umbrella will also cover all residences, property, vehicles, recreational vehicles and other liabilities subject to minimum underlying coverage limits, even those owned by entities such as LLC's or Trusts. This partnership leverages the size and strength of Addicus for its client's individual benefit.
Addicus clients can have confidence that their coverage is comprehensive, with liability gaps covered, while being highly competitive in the marketplace. Simply notify Addicus of your interest and they'll connect you with Tom Hopkins at TDC Risk Management, or you can contact Tom directly via phone (419) 794-1076 or email – thopkins(at)tdcriskmanagement(dot)com.
About Addicus
Addicus is a full service firm driven by economics, not finance. Our global perspective and approach often challenges conventional wisdom with amazing results. We specialize in providing services usually reserved for family offices of the world's top earners providing our clients a boutique style approach with a personal touch. Addicus' Private Wealth Development services start with a discovery phase by piecing together a full and thorough profile of one's personal and business finances. Leading with your mission statement, Addicus designs and uniquely crafts a playbook to accomplish your goals and initiatives. Contact Addicus today and get started with a playbook of your own. Please visit http://www.weareaddicus.com