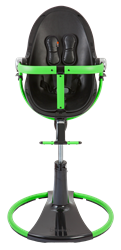 New York, NY (PRWEB) May 29, 2014
Today, bloom® the global leader in modern baby furniture and gear, announces the launch of the fresco chrome giro, a limited edition collection inspired by the global movement that is bringing color, energy and customization to the world of cycling, furniture and fashion. From brightly colored bikes seen pedaling through the streets of Manhattan, to the rise in ultra customizable bicycle and clothing shops around the globe, the giro collection brings this pop of color and personalization to one of the most iconic bloom pieces – the fresco chrome.
"In 2014, vibrant color has dominated everything from the runway to NYC bike paths," said Simon May, co-founder, bloom. "We wanted to infuse this energy and fun into our product, while allowing our customers to create a personalized fresco that fits best with their sense of color and aesthetic. We're thrilled with the result."
The iconic fresco chrome chair (which starts as a newborn cradle and converts to the world's highest baby chair) offers a 3-position recline system with easy up and down height adjustment, making it possible to bring baby from the standard dining table to the breakfast bar. Designed for newborns to children up to 80 lbs (8 years), the fresco chrome, like all bloom products, surpasses the highest safety standards. The fresco chrome is built with ergonomic design elements and accessories that work seamlessly with a busy parents' lifestyle; making it more than just a chair – it's a design piece for the home.
Features and Benefits:

Three recline positions; fully lie-flat newborn cradle, semi recline and upright seat
360-degree swivel
5-point safety harness incorporating the bloom smart buckle
Pneumatic up/down height adjustment allowing for tray heights up to 36 inches
Removable harness straps allow conversion to a play seat for kids up to 80 lbs (8 years)
Spill-proof deep lip, scratch resistant anti-slip adjustable feeding tray with enclosed second small play tray
Removable click-in-click-out aluminum safety bar for use in all three recline positions
Removable sculpted booster seat
Removable reinforced aluminum footrest with 3 adjustable height positions
Easy to wipe clean nook and cranny free seat unit
Large, scratch free wheels concealed in base
MSRP: $650.00 (including frame, seat pad and harness set and all accessories for use from newborn to 8 years)
Available in the United States at giggle, neiman marcus and bloombaby.com; for a list of international retailers visit bloombaby.com
For more information and to pre-order this limited edition, please visit http://www.bloombaby.com. The giro will be available from the middle of June onwards in store and online.
About bloom:
Founded by four dads in 2007, bloom's product collections of innovative gear and furniture fuse fashion and function to reflect modern living, safety and environmental sustainability. bloom is sold globally at leading department stores and specialty boutiques.