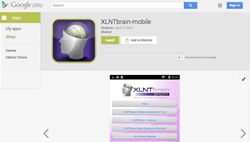 "XLNTbrain-Mobile is the first and only companion app on the market that seamlessly integrates with a comprehensive concussion management program...It's like having a virtual neurologist on the sideline." -- Dr. Harry Kerasidis
National Harbor, Maryland (PRWEB) May 29, 2014
The scary, mysterious moments after an athlete is knocked unconscious or stumbles to their feet after a hard hit to the head often leaves onlookers with many serious questions, and few answers. A new mobile application available today for free on Google Play, the XLNTbrain Sideline Assessment Tool™ helps demystify the concussion detection process with a simple, yet clinical-caliber ally.
The XLNTbrain-Mobile app introduction comes coincidentally with President Barack Obama's White House Safe Sports Concussion Summit, held on May 29.
In development for more than three years by cognitive neurologist Harry Kerasidis, M.D, the XLNTbrain-Mobile app guides athletic trainers, coaches, and team doctors through a series of cognitive and balance tests to help assess a potentially-injured athlete for concussion-related signs and symptoms.
According to Kerasidis, XLNTbrain-Mobile is the first and only companion app on the market that seamlessly integrates with a comprehensive concussion management program. Called XLNTbrain Sport™, the program provides everything a sports organization needs to comply with state-wide education requirements, conduct pre-season baseline testing, sideline assessments, recovery guidance, daily symptom tracking and automated reporting, available on a subscription basis.
"The app is used to provide a clinical-caliber concussion-risk assessment on the sideline or in the locker room, and includes a state-of-the-art balance test that utilizes the accelerometer technology built in to smartphones," said Dr. Kerasidis, a double board certified neurologist who has studied and treated hundreds of concussions in his 25 year practice. "But the real power comes with a sports team or organization taps into all the other modalities that I've incorporated into a single web-based resource."
XLNTbrain Sideline Assessment Tool™ features include (XLNTbrain-Mobile):

Documents time, date, sport, position, injury, observed and reported symptoms
Assesses word memory, orientation
Delivers balance test using smartphone accelerometer technology
Provides simple color code system (red, yellow, green) to assign possible level of risk
Includes Glasgow Coma Scale and Cranial Nerve Assessment for medical personnel
Sends email alerts to parents and designated healthcare professionals that a potential concussion has been recorded
Results immediately available on the XLNTbrain.com dashboard
Includes XLNTbrain Daily Symptom Checklist for injured athletes to track post-concussion progress
"Until now, coaches, athletic trainers, and other medical professionals have had to choose from a wide array of mobile apps and piece them together with various other protocols," said Dr. Kerasidis who is also the Medical Director of the Center for Neuroscience at Calvert Memorial Hospital. "Now they have a single platform that meets and exceeds guidelines set by the National Athletic Trainers Association, the American Academy of Neurology and other medical organizations, and meets my clinical approval. It's like having a virtual neurologist on the sideline."
About XLNTbrain, LLC
XLNTbrain LLC provides the first complete concussion management program for all sports and levels. Based in National Harbor, Maryland, XLNTbrain assists parents, coaches, athletic trainers and health professionals with a fully-integrated platform designed to help recognize concussions, assist with detecting concussions and guide athletes safely back to normal activity and gameplay. More information about XLNTbrain Sport™ is available at xlntbrain.com, by calling (855) 333-9568 or emailing info(at)xlntbrain(dot)com.
# # #
NOTE: XLNTbrain LLC's sport concussion management system is a data collection tool and does not intend to diagnose, treat or otherwise suggest any other course of action that would substitute a certified medical professional. All participants should seek the advice of medical professionals for the diagnosis and treatment when necessary, including for final clearance or play.