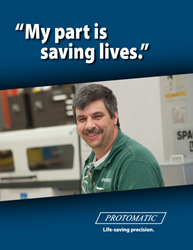 Dexter, MI (PRWEB) May 29, 2014
Protomatic initiated a new "Employee Engagement" program in the fall of 2013. This program is focused on helping employees understand Protomatic's guiding principles while providing insight into their "whats and whys." This program gives all employees the basic terms used in daily communications at Protomatic, and aids in their understanding. The result of this improved communications is improved company performance.
Among the methods used are quarterly town-hall style meetings. This format promotes easy, direct communication between management and employees. Whether we talk about internal goals or ideas for improvement, these discussions allow us to share our mutual desire to make Protomatic a better company, and provide a platform to make it happen. These two-way dialogs have created an environment that welcomes the open flow of ideas, and has brought a superior product quality to our customers.
Protomatic represented at MMTC Peer-to-Peer Seminar
The Michigan Manufacturing Technology Center (MMTC.org) is a mentoring group for small to mid-sized manufacturing firms. As part of its mission to keep Michigan manufacturing strong, it recently organized a peer-to-peer "Employee Engagement" seminar. Protomatic's Doug Wetzel, VP and GM, was one of the three panel speakers at the May 1st event at MMTC in Plymouth, MI. The event was an opportunity to share methods and techniques with other companies in Michigan that had interest in "engaging their workforce". Other guest speakers included representatives from Morbark, Inc. located in Winn, MI -- a manufacturer of forestry, sawmill and bio-energy equipment, and Avon Gear of Shelby Twp., MI -- a manufacturer of large precision gears for the heavy equipment industry.
According to the MMTC blog, involving workers in developing ideas for improvement has resulted in Protomatic greatly increasing its employee retention rate. The MMTC stated: "When you implement improvement initiatives or major changes to your processes, make sure your staff feels included. When they understand why improvements are being made and how the changes benefit them, they feel more empowered and a part of the change process. This will help drive motivation and ensure sustainability. Job security is important. Let your employees know how shop floor improvements and market diversification helps secure their future."
When everyone is involved, everyone wins
Getting everyone on board is not only advantageous for employees, it also serves Protomatic well. With the shrinking talent pool, it's important to keep attrition to a minimum. Maintaining a happy and well-trained workforce is imperative in order to keep business running smoothly. At Protomatic, "We want to be the best!" stated Doug Wetzel. "We want to develop our employees and get them focused on improving the Quality System and Part Manufacturing processes. This employee focus will, in the long term, result in manufacturing the best possible 'Life-Saving Precision' parts."
Protomatic specializes in "Life-Saving Precision". The company resides in a 30,000 square-foot facility at 2125 Bishop Circle West in Dexter, Mich. Their areas of expertise include prototype machining and custom short-run precision CNC milling and turning. In addition to those services, Protomatic will customize, produce and assemble parts and systems for numerous industries and jobs. Industries served include medical, aerospace, automotive, military, and several other markets.