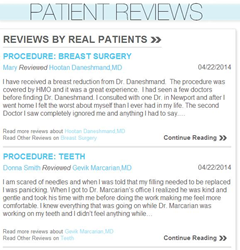 With a powerful system like Cosmetic Town, you will see the public adopt more advanced treatments faster and with piece of mind. - Yehuda Gladen
Los Angeles, CA (PRWEB) May 30, 2014
The recently launched Cosmetic Town is changing the way patients select doctors with an innovative system that features only authentic and proven reviews. Patients who favor a more natural appearance have long been hesitant to publicly acknowledge receiving cosmetic treatment. Since these patients are not expected to provide their personal information when leaving a review, a few unscrupulous doctors have taken to posting their own reviews, in which they act as a patient. It has also been noticed the fabricated reviews from the competitors to undermine the good quality of solid doctors. Cosmetic Town has been monitoring the trend of these fraudulent reviews, and has introduced a secure method of authenticating individual reviewers so the consumers can review anonymously. Patients can now discuss the results of their treatment in a safe environment in a way that promotes honesty and full disclosure.
Real reviews help prospective patients make more informed choices when selecting a cosmetic specialist in their area. Cosmetic Town's system empowers only the most qualified doctors who value long term satisfaction, which improves consumer confidence. The site also helps users by weeding out bad or irresponsible doctors.
Cosmetic doctors are increasingly realizing the benefits of credible reviews in light of the growing number of review sites in recent years. Users benefit from patient reviews whether they are for popular cosmetic procedures or innovative plastic surgeries that have had limited trials. Cosmetic Town's editorial chief believes that a system featuring more weighted reviews will help put the spotlight on revolutionary new procedures, "With a powerful system like Cosmetic Town, you will see the public adopt more advanced treatments faster and with piece of mind. While doctors are eager to perfect the latest techniques, the public has been much more forthcoming due to lack of enough information and proper exposure."
Although patients can leave an anonymous review, other users who are extremely proud of their results may decide to show them off by publicly bragging about their decisions.
The Cosmetic Town team shared their thoughts on this topic, "We think with cosmetic surgery becoming less of a taboo, we will see a lot more consumers become forthcoming with their plastic surgery and talk about their outcome in order to educate the public. Cosmetic Town understands that this should be the patients' decision only, and that this choice should not affect the weight of their review in any way."
About Cosmetic Town
Cosmetic Town is the only cosmetic industry site which authenticates both doctors and real patients. The site features doctors that have been carefully reviewed and endorsed by their peers making it easy for users to find the most qualified and highly recommended cosmetic doctors in their area. Users can also read about the latest news in plastic surgery, anti aging treatment, hair restoration, cosmetic dentistry, and facial and body modification at Cosmetic Town Journal.