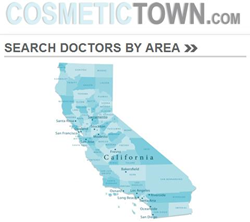 We reviewed several other states but decided that California was a major trendsetter in cosmetic procedures, and decided to feature those cosmetic specialists whose treatments are making waves throughout the country. - Yehuda Gladen
Los Angeles, CA (PRWEB) May 30, 2014
Cosmetic Town, a unique website that promotes only honest reviews of cosmetic specialists, is beginning its worldwide initiative to feature the most prestigious doctors by spotlighting California, long regarded as the Mecca of cosmetic surgery. The site features doctors from Beverly Hills, Los Angeles, Orange County, and other major California cities, that are highly recommended by their patients and peers. All the featured doctors have years of experience practicing in their respective fields, with many having contributed to furthering the research and development of revolutionary treatments. In addition to being among the first cosmetic doctors to be featured on Cosmetic Town, recommended doctors can present original peer reviewed articles, which are geared toward users who are learning about cosmetic treatments for the first time.
California is known as the hub of plastic surgery since it is home to many of the most internationally recognized plastic surgeons in the world. The state also attracts thousands of cosmetic surgery patients looking for the most effective treatments in anti aging, skin rejuvenation, breast cosmetic surgery, facelifts, hair transplantation, and more. Its close proximity to Hollywood has made it a cosmetic fixture for years. Cosmetic Town's Editor in Chief Yehuda Gladen believes choosing California as the first state to be featured in Cosmetic Town was a natural choice, "We reviewed several other states but decided that California was a major trendsetter in cosmetic procedures, and decided to feature those cosmetic specialists whose treatments are making waves throughout the country."
California's best cosmetic specialists discuss and analyze their own cosmetic treatments, present before and after pictures and videos of their results, and offer their expert opinion on articles about popular cosmetic procedures from other doctors in their field. Mr. Gladen believes that this knowledge will benefit both patients and doctors alike, "This not only helps patients find and select the best doctors in their area, but it also benefits doctors whose work is validated by their colleagues and peers". Cosmetic Town, which plans on introducing new cosmetic hot spots in the near future, feels that the site will be a great source of knowledge that will help prospective patients separate facts from popular myths.
About Cosmetic Town
Cosmetic Town is the only cosmetic industry site which authenticates both doctors and real patients. The site features doctors that have been carefully reviewed and endorsed by their peers making it easy for users to find the most qualified and highly recommended cosmetic doctors in their area. Users can also read about the latest news in plastic surgery, anti aging treatment, hair restoration, cosmetic dentistry, and facial and body modification at Cosmetic Town Journal.