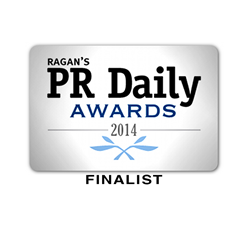 "It's an honor to be recognized for brand journalism and content marketing because this trend is the future of public relations"
Columbus, Ohio (PRWEB) May 29, 2014
A public relations project using brand journalism and content marketing tactics that generated so much web traffic that it crashed a major hospital's website has landed MediaSource as a 2014 PR Daily Awards finalist in the Content Marketing/Brand Journalism category.
MediaSource was selected one of just three finalists in a competition that attracted almost 350 entries from around the world. Joined by MediaSource as finalists in the content marketing/brand journalism category are NorthShore-LIJ Health System and Stein IAS for the international company, Trelleborg Marine Systems.
"It's an honor to be recognized for brand journalism and content marketing because this trend is the future of public relations," said Lisa Arledge Powell, president of MediaSource. "I believe that every PR professional should be doing this type of storytelling. MediaSource is fortunate because our clients have trusted us for years to tell their stories in journalistic style which positions us well in this industry."
MediaSource, nationally known as a health care brand journalism authority, was recognized for their work in promoting The Ohio State University Wexner Medical Center's SAGE Test, a self-administered test which evaluates a person's cognitive skills.
The brand journalism campaign, the most successful individual initiative to date for the hospital, included taking a journalistic approach to the creation of multimedia elements for both earned media as well as for hospital-owned social media channels.
The story was featured by national media outlets across the world including a major placement on NBC Nightly News. The buzz prompted more than 800,000 consumers to download the SAGE test, generating so much traffic that it temporarily shut down the hospital's website. The campaign has reached almost 500 million people to date with an advertising value of $1.5 million.
Click here for the SAGE Test case study.
MediaSource, located in Columbus, Ohio, is a national leader in brand journalism. The company's brand journalism team uses journalistic tactics to create client content which is amplified by using both earned media and company-owned media coverage. The team of brand journalists also utilizes their Multimedia Newsroom, which MediaSource developed as a way to deliver high quality multimedia content directly to the news media, allowing for maximum buzz for clients. All major television networks and other top tier news media utilize MediaSource's Multimedia Newsroom to access and download content.
MediaSource President Lisa Arledge Powell is a leading expert on brand journalism, speaking at national and regional industry conferences including PRSA Health Academy, The Mayo Clinic Health Care Social Media Summit and Content Marketing Institute. She also contributes to national PR publications and teaches college students the MediaSource Brand Journalism techniques.
The firm works with the nation's top health care providers including The Ohio State Wexner Medical Center, Nationwide Children's Hospital, National Jewish Health and American Society of Plastic Surgeons.
MediaSource has a track record of many PR industry related awards including, most recently, Best Health Care PR/Marketing Agency of 2013 by Ragan Communications and 10 awards from the PRSA 2014 PRism awards, which included two Best of Show awards.
About Mediasource
MediaSource is a public relations firm that specializes in brand journalism tactics. From news media coverage to consumer video tactics, MediaSource partners with the nation's top hospitals and corporations to get their message to targeted audiences. MediaSource is best known for delivering brand buzz by amplifying messages across both earned media and company-owned media channels.
@MediaSourceTV