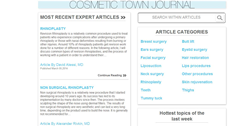 We have received positive feedback from the doctors featured already, and are confident we can continue to provide quality articles with content our users will benefit from. - Yehuda Gladen
Los Angeles, CA (PRWEB) May 30, 2014
Cosmetic Town, a newly launched medi beauty site for patients and doctors, features professionally peer reviewed articles that are targeted for users who are just learning about popular and revolutionary cosmetic procedures. While most peer reviewed articles are considered inaccessible to general readers, Cosmetic Towns' editors have taken great care to make sure that the material resonates with the majority of prospective patients, while remaining comprehensive in its analysis. Editor in Chief Yehuda Gladen explained, "Most peer reviewed articles are written for medical or academic publications and are not readily available to the public. The articles are heavy on medical terminology that often requires medical experience or training to understand. The vast majority of our users will be prospective patients looking for credible information on a range of different cosmetic procedures. We want to make sure that our site provides them with the ability to find the information they are looking for presented in a way that allows them to analyze the risks and benefits of every procedure. We have received positive feedback from the doctors featured already, and are confident we can continue to provide quality articles with content our users will benefit from."
Cosmetic Town doctors, who understand the value of professionally peer reviewed articles, are excited by the ability to showcase their findings to the widest possible audience. The articles will be reviewed by other doctors who are experts in the same field in order for users to get the most reliable information on a cosmetic treatment or procedure.
Cosmetic Town is currently spotlighting the most prestigious doctors in California and promises national expansion in the months to come. Doctors who are revered for their technique or specialization will be among the first to be featured on Cosmetic Town Journal.
About Cosmetic Town
Cosmetic Town is the only cosmetic industry site which authenticates both doctors and real patients. The site features doctors that have been carefully reviewed and endorsed by their peers making it easy for users to find the most qualified and highly recommended cosmetic doctors in their area. Users can also read about the latest news in plastic surgery, anti aging treatment, hair restoration, cosmetic dentistry, and facial and body modification at Cosmetic Town Journal.