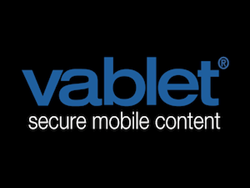 We know most Salesforce instances are customized, and our solution can be leveraged to increase the ROI of Salesforce and offset the time and expense of custom app development.
Irvine, CA (PRWEB) May 29, 2014
Meiotic, Inc. developers of vablet, an iPad, iPhone, and Windows 8 file management platform, has added offline integration of media views and contacts and events from a user's Salesforce® account within the iOS version of the vablet mobile app.
The vablet content management platform is a mobility solution tailored for sales or marketing professionals to conduct presentations and securely share collateral on iOS and Windows 8.1 devices. The key advantage of combining vablet and the Salesforce1 CRM is the increased offline productivity created from managing Salesforce® events within the vablet app. This includes calendared events; past or future event details; and the analytics of media views as a custom object within Salesforce1.
In addition, vablet can be modified to support custom contact fields and custom event fields with minimal coding.
"By integrating widely adopted tools such as Salesforce1 within our vablet app, we can provide greater value to the mobile deployment process within one corporate ecosystem, including BYOD users." explains co-founder Paul Pacun. "We know most Salesforce® instances are customized, and our solution can be leveraged to increase the ROI of Salesforce® and offset the time and expense of custom app development."
The Salesforce® integration was developed in collaboration with vablet's global customer base including: life science, pharmaceutical, medical device and manufacturing companies.
Vablet is seamlessly integrated with Salesforce® via an APEX connector allowing for customization to contacts or events. When combined with the vablet API, custom integrations can be achieved with unparalleled ease. The module for Windows 8.1 will be available in the third quarter of 2014.
Among the list of vablet's main features are: centralized control of files and devices from a web-based console; the ability to securely sync and revoke access to data instantly; complete analytics on all devices and files; offline accessibility to key filetypes for sales, such as HTML5, multimedia PDFs and videos; and custom branding options.
About Meiotic, Inc.
Based in Irvine, California, Meiotic Inc, is a leading technology innovator in mobility.  Meiotic's flagship app, vablet, provides a secure container technology that offers file access, sales presentation and engagement, and analytical reporting for enterprise organizations using tablet devices. First released in the iOS Appstore in 2010, the vablet app has been globally deployed by Fortune 100 pharmaceutical and medical device companies; financial institutions and international banks; sales organizations in retail or manufacturing; and many other industries. For more information, call 1.800.615.4583 or go to http://www.vablet.com.
vablet is a registered trademark of Meiotic, Inc and/or its affiliates. Other names may be trademarks of their respective owners.