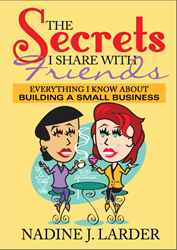 If you're starting a small business and want to learn the ropes from someone who really knows how to climb, this book is a MUST READ. – Clate Mask, CEO/Co-Founder of Infusionsoft and New York Times bestselling author of Conquer the Chaos
Litchfield Park, Arizona (PRWEB) June 24, 2014
Author Nadine J. Larder is a wife, a mother of five, and an entrepreneur. She is also a continuous, willing and happy student of the School of Hard Knocks, an institution that has taught Larder many important lessons about overcoming obstacles, embracing challenges, and running—not walking—to self-made success. She now shares these lessons in her book, "The Secrets I Share With My Friends: Everything I Know About Building a Small Business."
Larder is proof positive that overcoming challenges brings to surface one's unique, personal capabilities and that failures lay the groundwork for success. She's had plenty of opportunities to test this idea, including:

losing her childhood home at the age of 17, after her father's construction company took on a project that was bigger than it could handle financially;
having to make it on her own right out of high school, with no financial support from parents or family;
being laid off in 1996 from her "secure" sales training position at a very large company--a single mom, with no way to support her three children;
being diagnosed with fibromyalgia, a silent and little understood disease that brings chronic pain, exhaustion, discomfort and can be debilitating;
being forced to close her once successful sales training business due to ripples felt throughout the technology sector of business following 9/11;
being forced to sell her car, house and any other "extras" in 2008 after the collapse of the real-estate market crippled her and her husband's real estate and mortgage business; and
standing in line at the local food-bank to make sure there was food on the table when times were their worst.
Going from making $20,000/day for speaking engagements, flying first class, driving nice cars, and living in a nice home to standing in line at the food bank and applying for programs is both humbling and character building. It also provides invaluable lessons that only life can teach when the student is ready.
Larder wove those lessons in with her infectious spirit and sheer willpower to create a stunning tapestry of success—both personal and professional. In this book, she gives readers the blueprint that took years to develop, and does so in an engaging and approachable manner that makes for quick reading for such essential information, including: secrets for harnessing print, online, and social media to maximize marketing efforts and heighten brand visibility; great ideas on how to hire people and how to delegate to them once you hire them; strong suggestions for how to keep yourself out of financial trouble; and guidelines for how to organize and set up some structure in your business.
"The book includes everything you need to know about small business, from starting it, to growing it, to maintaining it—and finally, to having an exit strategy so you can retire from it," Larder says.
The author's notes on marketing are particularly relevant and valuable, with ideas that Larder uses in her own small business, with a level of success that garnered her Infusionsoft's Small Business ICON Award for Lead Nurture and Conversion. According to Infusionsoft, "Winning this award has quickly become the aspiration of many small business owners, as well as an inspiration to many others."
Larder's book has met with rave reviews from industry icons, journalists, and best-selling authors.
The author has made available to the media two excerpts from her book, which can be reprinted, free of charge:

"The Secrets I Share With My Friends: Everything I Know About Building a Small Business," by Nadine Larder, is available for purchase on amazon.com for $14.95 or at SmbSmarts.net.
About Author Nadine Larder, NJL Enterprises
Nadine Larder has more than 25 years' experience in generating effective results that feed the bottom line, including sales training for large corporations, building up a real estate business and eight years running her own company, PrinterBees, an online "one-stop marketing shop for small businesses." She is the recipient of the 2014 Small Business ICON Award for Lead Nurture and Conversion. She resides in Litchfield Park, Arizona, with her husband and five children, living with the effects of fibromyalgia and the insatiable thirst to help people discover their purpose and live the lives they are meant to be living.