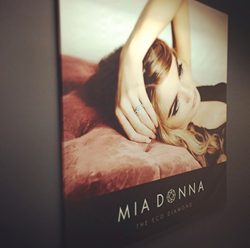 I want to alleviate any consumer doubts about man-made diamonds because the truth is man-made diamonds are superior and this is simply the evolution of the diamond. - Anna-Mieke Anderson, CEO
Portland, Oregon (PRWEB) May 30, 2014
On July 7th 2014, MiaDonna & Company will open its first showroom in America's Greenest City, Portland, Oregon. Located in the exclusive Lincoln Center across from the Washington Square Mall, fans of the brand will be able to schedule a personal appointment to browse their eco-friendly jewelry collection, and learn about the companies mission to give back to damaged diamond mining communities.
MiaDonna® is an award winning, innovative, earth and humanitarian friendly eco-diamond jewelry company. As a leader in the diamond industry evolution, MiaDonna® is fully committed to the modern diamond consumer, the environment and global societies. The showroom opening will support their online boutique, and is fueled by consumers demand for affordable green, ethically produced diamond jewelry. Such growth has put MiaDonna® on the Portland Business Journals' Fastest Growing Private Companies list for the past two years.
"I want to alleviate any consumer doubts about man-made diamonds, which is mostly set forth by the earth-mined diamond industry. Consumers need to know all their options before purchasing a diamond, because the truth is man-made diamonds are superior, and this is simply the evolution of the diamond. They are more pure than most retail earth-mined diamonds, less expensive and they are free of any negative social, environmental or humanitarian concerns. When they are purchased through MiaDonna we rebuild diamond-mining communities. Our business model is a solution to the issue of conflict-diamonds and other outdated traditions that are not relevant in today's society." - Anna-Mieke Anderson
Couples will now have the opportunity to schedule hour-long individual sessions with a MiaDonna personal shopper. Guests will get a chance to privately view man-made diamonds, MiaDonna Diamond Hybrids® and a large selection of handcrafted jewelry. Consumers can start making appointments by visiting the website or they can always contact the office of MiaDonna and Company.
The state-of-the-art showroom will also feature a department for custom jewelry design. Guests who are interested in custom designed engagement rings will get an interactive, hands-on experience with one of the custom design specialists who will help them create their dream ring.
MiaDonna® (named after the founders daughter Mia and mother Donna) was established in 2007 by Anna-Mieke Anderson; mother, philanthropist and entrepreneur. When Anna-Mieke learned the truth behind her own earth-mined diamond, she became passionate about finding a conflict free option and soon realized that the only true conflict free diamond was man-made. Anna-Mieke knew there was a better way and that she wasn't the only one in search of a beautiful, ethical and affordable diamond alternative.
Since day one, MiaDonna® has invested funds raised from the sale of man-made diamond engagement rings into grass-root agricultural projects in Sierra Leone and Liberia, where child soldiers are supported to build farms instead of mining for diamonds.
"As a consumer of these natural resources I know I hold the greatest power, I hold the answer to create change. I believe the answer starts with consumers and the excessiveness in which we purchase these products and the companies they come from. I truly believe if consumers knew the ramifications of the products they purchase and the power behind their buying decisions, they would make different choices." - Anna-Mieke Anderson
# # #