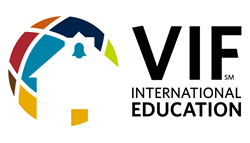 Speas has been successful in making global education relevant to its teachers and so Speas students are developing cultural literacy under the guidance of motivated and dedicated teachers.
Chapel Hill, NC (PRWEB) May 28, 2014
VIF International Education, the leading provider of global education programs for K-12 schools, proudly announced Tuesday that Speas Global Elementary School in Winston-Salem, N.C. has been named the 2014 VIF Global School Award winner. In addition to being honored as a top international school in the region, Speas was awarded funds for global education materials to benefit the school.
The VIF Global School Award recognizes schools that demonstrate outstanding commitments to inspire students, teachers and communities toward understanding the world's languages, its cultures and the diverse perspectives of all people. Specifically, the award acknowledges schools that promote curiosity through project-based inquiry and that integrate global themes throughout school environments and communities.
Speas recently transitioned to a global school by adding dual language immersion programs to its offerings, expanding its number of international teachers and by providing all teachers access to professional development and classroom resources in the VIF learning center to support the incorporation of global content into everyday class instruction. The leaders at Speas formalized their commitment to global education by making the school a member of the Global Schools Network.
According to Principal Robert Ash, "The incentive and mission of our school is to have students be aware of the world in which they live and to understand that there is more to their environment and more to their lives than North Carolina and Winston-Salem."
Students at Speas are supported in learning new perspectives by teachers representing many different countries including Colombia, Russia, India, Panama, Syria, Germany, Lebanon, Ireland and Italy. "These teachers bring their own personal experiences and authentic connections to the international community to help enrich the curriculum and promote teacher and student curiosity in global themes," Ash said.
In addition, all teachers at Speas are engaged in professional development that has ignited their own interests in global concepts. Ash explained, "As teachers began completing professional development, they became even more curious about global studies and wanted to learn more in order to transfer their new knowledge to students. Through discussions, teachers realized they have prior knowledge for integrating the curriculum with global education and much of it comes from their personal lives and experiences."
Anna Hill, a fourth-grade teacher at Speas, added that the structure for integrating global concepts has been effective, "Each grade level was assigned a continent on which to focus. From that point, teachers were allowed the autonomy to decide when and how to incorporate global themes into daily lessons. By organizing the school in this way, the administration has set an expectation for the use of global content while at the same time allowing teachers to individualize lessons."
Teacher and class blogs, thoughtfully selected reading sources focused on international themes and the integration of current world events in various subject areas are now standard characteristics of classrooms at Speas. The school also created an annual International Night celebration which attracted more than 500 visitors in February and featured classrooms representing carefully researched countries, authentic dishes from a variety of cultures and abundant community and local business support in the form of food, clothing, artifacts and performances.
"Speas Global Elementary is a model for how school leaders can commit to global education while also actively empowering teachers to develop creative approaches for weaving global perspectives into their classrooms," said David Young, CEO of VIF. "Speas has been successful in making global education relevant to its teachers and so Speas students are developing cultural literacy under the guidance of motivated and dedicated teachers."
Speas is one of hundreds of schools involved in VIF's expanding global education programs which include Passport Global Schools, Splash Language Immersion and Cultural Exchange Teachers. In these programs, teachers utilize the Global Gateway system which offers online professional development and curricular resources to bring international education into their classrooms and drive student achievement through global learning.
Teachers around the world can become members of the VIF learning center for free and learn to effectively integrate global themes into their core instruction by accessing Global Gateway professional development, a robust library of ready-to-use lesson plans and a growing community of nearly 4,000 educators. Through Global Gateway, teachers work to understand and investigate the world, connect with others and make learning global.
###
About VIF International Education
VIF International Education (http://www.vifprogram.com) builds global education programs that prepare students for success in an interconnected world. For more than 25 years, educators have leveraged VIF's professional development and curriculum, language acquisition and teacher exchange programs to generate engaging learning environments where students can excel in core curriculum as well as develop valuable critical and creative thinking skills. A certified B Corp and 'Best for the World' honoree headquartered in Chapel Hill, N.C., VIF provides a pathway for teachers, schools and districts to become globally designated.
About Global Gateway
The Global Gateway system offers a simple integrated platform for K-12 educator professional development, lesson plans and classroom resources, digital badging for achievements and participation in an incredible collaborative community of global educators. Teachers anywhere in the world can learn to effectively integrate global content into their core instruction.
Tags: global-ready, global competence, global awareness, global schools, global education, international education, professional development, curriculum, K-12, e-learning, social learning platforms, professional learning networks, teachers, student achievement, 21st century skills, edtech, education technology, project-based learning, lesson plans, teacher resources, award, recognition