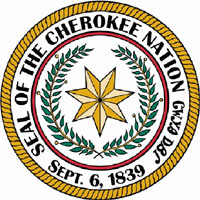 Tahlequah, Okla. (PRWEB) May 28, 2014
The 2014 Remember the Removal bike riders departed the Cherokee Nation Wednesday, officially beginning a three-week journey to retrace their ancestors' path along the Trail of Tears.
Principal Chief Bill John Baker and tribal leaders held a special send-off ceremony at the W.W. Keeler Tribal Complex to wish the riders a prosperous journey and safe return.
The 13 Cherokee Nation riders will meet up with six riders from the Eastern Band of Cherokee Indians in Cherokee, North Carolina. The group will start the ride in New Echota, Georgia, on June 1 and travel seven states on bicycles before ending the 950-mile journey in Oklahoma June 19.
The ride, which originated 30 years ago, is a leadership program allowing Cherokee students to get a glimpse of the hardships their Cherokee ancestors faced while making the same trek on foot.
"A comprehensive genealogy was completed for every rider and staff making the trip. As they learn more about their own family, the universal Cherokee experience becomes much more personal for them," Chief Baker said. "These riders will live out an exceptional experience over the next three weeks that will bond them forever. It is physically demanding and can be emotionally draining, but completing the trip will be a spiritual reward in and of itself. Just as our ancestors were 175 years ago, these young Cherokee people will be responsible for each other on this journey."
This year marks the 175th anniversary of the arrival of the final group of Cherokees forced from their homes in Georgia and Tennessee and other southeastern states to the tribe's current capital in Tahlequah, Oklahoma. Of the estimated 16,000 Cherokees forced to make the journey to Indian Territory, an estimated 4,000 died due to exposure, starvation and disease.
"The Remember the Removal ride not only commemorates this important event in our people's history, but it is an opportunity for our youth to learn more about our history," said Principal Chief Michell Hicks of the Eastern Band of Cherokee Indians. "Our riders are a true cross-section of our tribal community, and this experience offers a means for them to connect across generations and to learn from one another about our history."
The riders from Cherokee Nation are Charli Barnoskie, Cassie Moore, Keeley Godwin, Adriana Collins, Noah Collins, Chance Rudolph, Jordan McLaren, Elizabeth Burns, Zane Scullawl, Madison Taylor, Jamekah Rios, Kassidy "Tye" Carnes and Jacob Chavez.
The riders from the Eastern Band of Cherokee Indians are Patricia Watkins, Richard Sneed, Ty Bushyhead, Kelsey Owl, Russell Bigmeat and Katrina Sneed.
Follow the riders along the journey at http://www.facebook.com/removal.ride or with the Twitter hashtag #RememberTheRemoval. The riders will also travel through the following cities and states during these dates:
Georgia
June 1 – New Echota to Cleveland, Tenn.
Tennessee
June 2 – Cleveland to Dayton
June 3 – Dayton to Pikeville
June 4 – Pikeville to McMinnville
June 5 – McMinnville to Goodlettsville
June 6 – Goodlettsville to Hopkinsville, Ky.
Kentucky
June 7 – Hopkinsville to Golconda, Ill.
Illinois
June 8 – Golconda to Cape Girardeau, Mo.
Missouri
June 10 – Cape Girardeau to Fredericktown
June 11 – Fredericktown to Potosi
June 12 – Potosi to St. James
June 13 – St. James to Richland
June 14 – Richland to Lebanon
June 15 – Lebanon to Springfield
June 17 – Springfield to Cassville
June 18 – Cassville to Fayetteville, Ark.
Arkansas and Oklahoma
June 19 – Fayetteville to Tahlequah, Okla.
-30-
Photo Cutline: Cherokee Nation Deputy Chief S. Joe Crittenden, ride staff Tommy Wildcat, Zane Scullawl, Chance Rudolph, ride coordinator Joseph Erb, Madison Taylor, Charli Barnoskie, Adriana Collins, Noah Collins, Elizabeth Burns, Principal Chief Bill John Baker, Keeley Godwin, Cassie Moore, Kassidy "Tye" Carnes, Jamekah Rios, Jacob Chavez, Jordan McLaren, ride co-coordinator Ashlee Chaudoin and EMT Shonda Scott.
About Cherokee Nation
The Cherokee Nation is the federally recognized government of the Cherokee people and has inherent sovereign status recognized by treaty and law. The seat of tribal government is the W.W. Keeler Complex near Tahlequah, Okla., the capital of the Cherokee Nation. With more than 300,000 citizens, 9,000 employees and a variety of tribal enterprises ranging from aerospace and defense contracts to entertainment venues, Cherokee Nation is one of the largest employers in northeastern Oklahoma and the largest tribal nation in the United States.
To learn more, please visit http://www.cherokee.org.
Editor's note: Find all the latest Cherokee Nation news at http://www.anadisgoi.com.