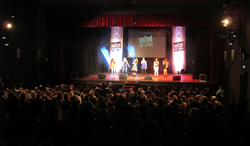 Human rights must be made a fact, not an idealistic dream.
(PRWEB) May 28, 2014
The Church of Scientology Mission of Modena and the Association for Human Rights and Tolerance held a United for Africa benefit concert May 9 at Teatro Michelangelo to raise funds to build schools for African children who would otherwise be denied the right to education.
Her Excellency Mrs. Evelyn Anita Stokes-Hayford, Ghana's Ambassador to Italy, thanked the Association for Human Rights and Tolerance and the Church of Scientology for their "efforts to safeguard fundamental human rights through the construction of schools, delivery of educational materials and many other activities" and their "exemplary help," that has "brought joy to many villages in the Northern, Eastern, and Central Regions, thereby bringing improvement into the lives of the less privileged."
The concert was directed and conducted by Laura De Vitis and featured music by American singer/composer Cheryl Porter and performances by the Dynamo music group, tenor Patrick Salati, comedian Duilio Pizzocchi and ventriloquist Samuel Barletti.
The concert motto was taken from the writings of author, humanitarian and Scientology Founder L. Ron Hubbard: "Human rights must be made a fact, not an idealistic dream."